Welcome to the captivating Pink City of Jaipur, where regal elegance meets opulent luxury in its exquisite hotel suites. Nestled amidst the vibrant and bustling streets, these magnificent accommodations redefine grandeur and offer an unforgettable experience for discerning travelers seeking a taste of royal indulgence.
Jaipur, renowned for its majestic palaces and rich cultural heritage, boasts a plethora of hotel suites that are truly fit for kings and queens. Immerse yourself in the allure of this enchanting destination as you step into these remarkable abodes adorned with intricate designs, stunning architecture, and lavish interiors. From charming boutique hotels tucked away in tranquil corners to expansive palace-like suites brimming with history, Jaipur caters to every traveler's desire for absolute comfort and sophistication.
Prepare to be swept off your feet by the sheer decadence that awaits you in these luxurious havens. Indulge in personalized service tailored to cater to your every need, accompanied by world-class amenities that redefine hospitality standards. Whether you are seeking a romantic getaway or a serene retreat from everyday life, Jaipur's hotel suites envelop you in an ambiance that is both lavish and intimate – making each moment spent within their walls truly extraordinary.
Get ready to delve into the captivating world of Jaipur's hotel suites as we unravel their hidden treasures, unique features, and awe-inspiring experiences that will leave you longing for more.
Top Jaipur Suites
The Raj Palace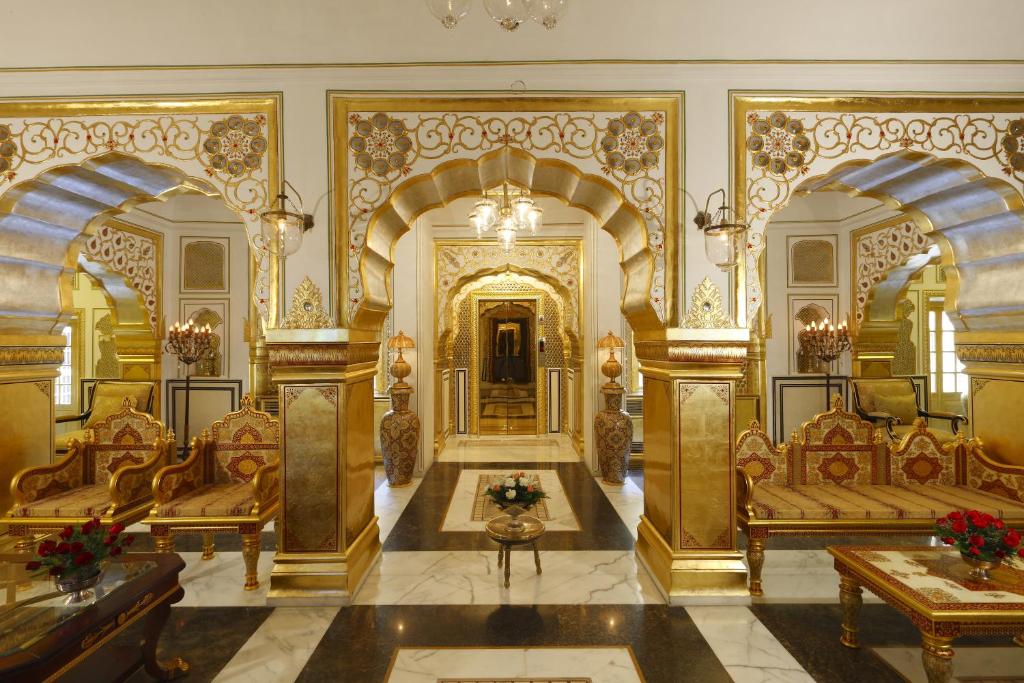 The Raj Palace is a boutique hotel located in the heart of Jaipur, India. Dating back to 1727, it was one of the city's first palaces and showcases elements from the Mughal period. The interior is charming with crystal chandeliers and double-height ceilings. The hotel boasts a refreshing pool and health club for guests to relax in. Each room at The Raj Palace is unique, exuding the spirit of its illustrious past guests. Decorated with traditional Indian décor and antique furnishings, the rooms offer modern amenities such as cable TV, air conditioning, premium bath amenities, and free Wi-Fi. Many rooms also showcase pieces from the Royal Family's museum collection and provide views of either the garden, courtyard, or pool. Guests can indulge in various activities offered by the hotel including swimming or enjoying a massage treatment at their spa. Additional entertainment options include a theatre and marionette show on-site. For dining experiences that tantalize taste buds, Swapna Mahal serves up an array of international cuisine while The Kebab Shop offers delectable Mughlai dishes cooked live on barbecue stations. Drinks and fresh pastries are available at The Royal Lounge whereas both alcoholic and non-alcoholic beverages can be enjoyed at Shikarbadi lounge bar.
– Historic palace dating back to 1727
– Charming interior with crystal chandeliers
– Relaxing pool and health club
– Unique rooms showcasing traditional Indian décor
– Dining options offering international cuisine as well as Mughlai dishes cooked live on barbecue stations
The Oberoi Rajvilas Jaipur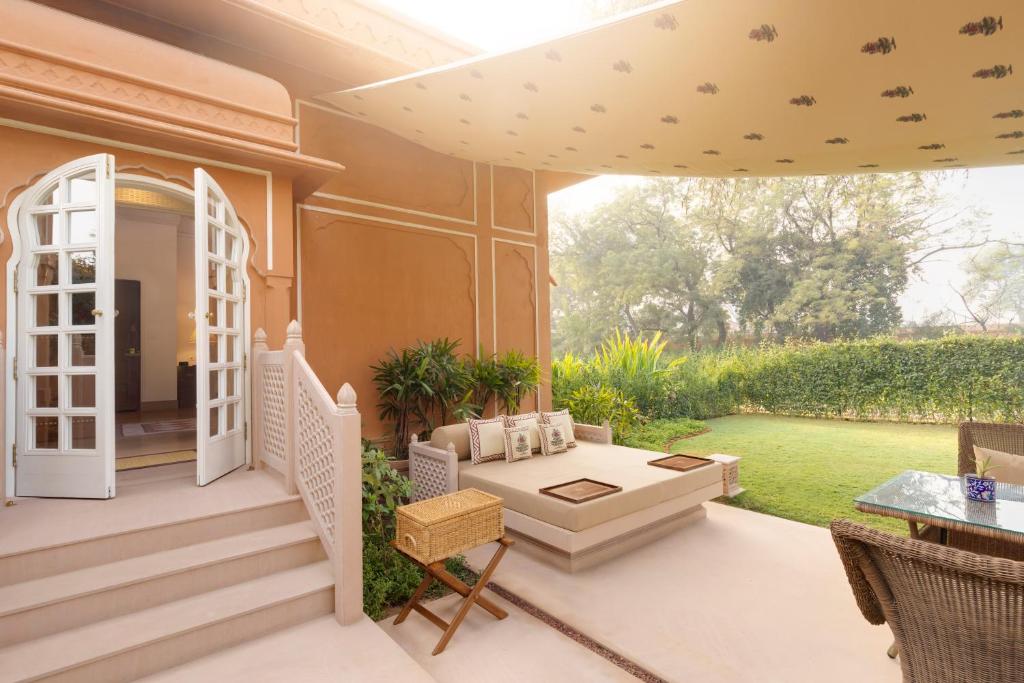 The Oberoi Rajvilas Jaipur is a unique 5-star hotel offering luxurious accommodation in Jaipur City. Surrounded by beautiful greenery, this property features a pool, three dining options, and free on-site parking. The Rajmahal restaurant serves Indian specialties for dinner, while the Rajwada Library Bar offers a selection of wines and spirits. The stylish rooms are decorated with modern interiors and neutral color tones, providing guests with stunning views of the surroundings through large windows. Each room is well-appointed with a sofa seating area, flat-screen TV, and a bathroom with a bathtub. Guests can enjoy various amenities including access to the gym, spa treatments at the salon, as well as convenient services such as ticketing and car rental arrangements at the tour desk. Surya Mahal & Courtyard is available for all-day dining with international dishes and fine wines. With its ideal location just 8 km from the City Centre and 10 km from Hawa Mahal, Jaipur Oberoi Rajvilas provides easy access to popular attractions like Jantar Mantar. Additionally, it is only a 25-minute drive from Jaipur Airport.
– Beautiful green surroundings
– Luxurious amenities
– Multiple dining options
– Convenient location near popular attractions
– Excellent service
Nirbana Palace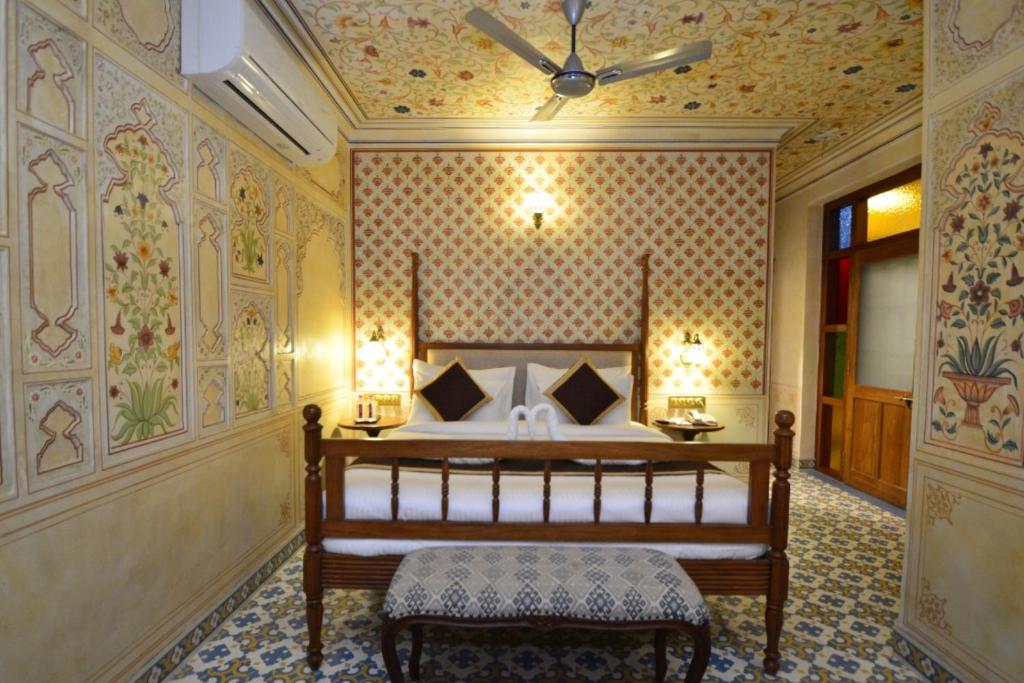 Nirbana Palace – A Heritage Hotel and Spa is a luxurious resort located in Jaipur, Rajasthan. Situated just 1.2 km from Jaipur Railway Station and 3.3 km from City Palace, this property offers convenient access to some of the city's top attractions like Jantar Mantar and Hawa Mahal – Palace of Winds. The resort features a restaurant serving delicious Indian and Asian cuisine, as well as amenities such as a 24-hour front desk, airport transfers, room service, and free WiFi throughout the property. The elegantly furnished rooms come with modern amenities including flat-screen TVs, air conditioning, and private bathrooms with showers and complimentary toiletries. Some rooms even offer balconies for guests to enjoy stunning views of the surroundings. Guests can start their day with a buffet or continental breakfast at Nirbana Palace – A Heritage Hotel and Spa. Vegetarian and halal food options are also available upon request. With its tranquil ambiance and convenient location near popular landmarks, this resort is an ideal choice for travelers seeking comfort during their stay in Jaipur.
Pros:
– Convenient location near major landmarks
– Elegant rooms with modern amenities
– On-site restaurant serving Indian and Asian cuisine
– Helpful staff available at the 24-hour front desk
– Free WiFi throughout the property
Other places to stay in Jaipur
Hotel Suites in Downtown Jaipur
Hotel Suites in Downtown Jaipur offer an impeccable blend of luxury and comfort, providing an ideal retreat for travelers looking to indulge in opulence. With their elegant decor and stunning views, these suites provide a unique experience that showcases the rich heritage and charm of Jaipur.
Four Points by Sheraton Jaipur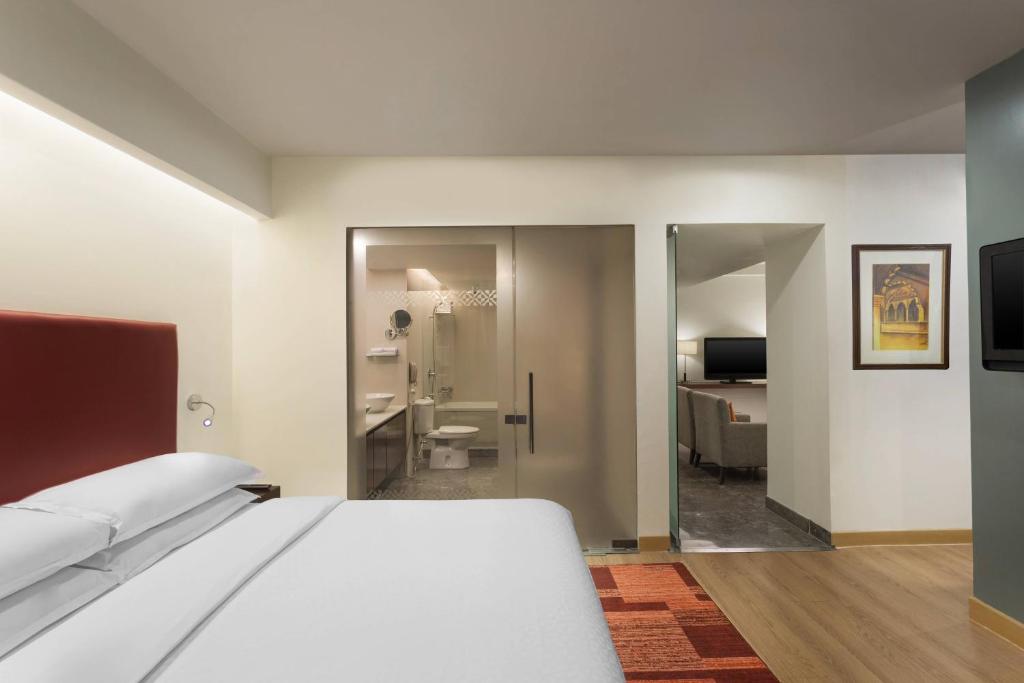 Located in the heart of Jaipur's city centre, Four Points by Sheraton Jaipur, City Square offers a luxurious stay for travelers. Just 5.3 km from Jaipur Airport, this hotel boasts an outdoor swimming pool and a restaurant that serves a buffet spread of local and Western dishes. The modern rooms feature floor-to-ceiling windows and light wood furnishings, providing a sleek and comfortable ambiance. Guests can enjoy amenities such as a flat-screen TV, safety deposit box, minibar, and hot shower facilities in every room. The hotel also offers a fitness centre, spa services, business centre, and tour assistance to cater to guests' needs. With its convenient location, just 8.6 km away from popular attractions like Hawa Mahal and City Palace, Four Points by Sheraton Jaipur is an ideal choice for both leisure and business travelers.
– Conveniently located in the city center
– Modern rooms with stylish decor
– Outdoor swimming pool
– Delicious buffet spread at The Eatery restaurant
– Fitness center and spa services available
Rajmahal Palace RAAS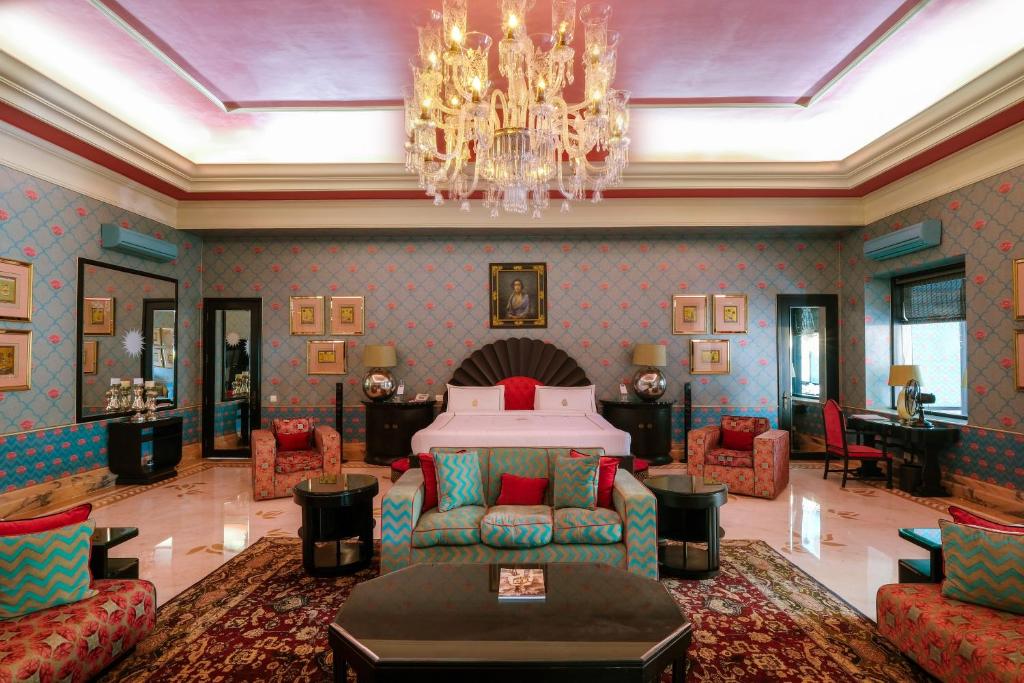 Rajmahal Palace RAAS, located in Jaipur just 2.2 km from Sindhi Camp, is a luxurious hotel offering a range of amenities to enhance your stay. The hotel boasts free WiFi throughout the property, as well as three restaurants and multiple dining venues to cater to every taste. Guests can also enjoy drinks at the on-site bar. The rooms are elegantly furnished and feature air conditioning, a flat-screen TV with satellite channels, and a private bathroom with shower. Some rooms even come with a separate seating area for added convenience. To ensure your comfort, bathrobes, slippers, and free toiletries are provided. The hotel provides free private parking on site for guests' convenience and offers car hire services for those looking to explore the area further. Additionally, there is a 24-hour front desk available for any assistance you may need during your stay. Birla Mandir Temple is only 2.7 km away from the hotel while Bani Park is 3 km away. The nearest airport, Jaipur International Airport, is conveniently located just 9 km from the property.
– Free WiFi throughout the property
– Three restaurants serving a variety of cuisines
– On-site bar offering refreshing drinks
– Elegant rooms with modern amenities
– Convenient location near popular attractions
Brij Nest Suites
Located in Jaipur, the Brij Nest Suites is a luxury hotel that opened in January 2020. Situated just 4.8 km from Govind Dev Ji Temple, this hotel offers guests a range of amenities and services to ensure a comfortable stay. The property features a seasonal outdoor swimming pool, free private parking, a fitness center, and a garden. Guests can enjoy delicious meals at the on-site restaurant or make use of the convenient room service option. The hotel also provides a 24-hour front desk, free WiFi access, an ATM, concierge service, and currency exchange for added convenience. Each room is elegantly designed with air conditioning, a seating area, flat-screen TV with satellite channels, safety deposit box, and private bathroom complete with shower facilities and complimentary toiletries. Bed linen and towels are provided in every room as well. To start their day off right, guests can indulge in an Asian or vegetarian breakfast served at the accommodation. Popular attractions such as Birla Mandir Temple (5.8 km away) and Jaipur Railway Station (10 km away) are easily accessible from the hotel's location. The nearest airport is Jaipur International Airport which is only 3 km away.
– Modern rooms with elegant decor
– Seasonal outdoor swimming pool
– Convenient location near popular attractions
– Restaurant serving delicious meals
– Attentive staff offering excellent service
Most Expensive Hotel Suites in Jaipur
Jaipur's most expensive hotel suites offer unparalleled luxury and opulence, with exquisite interiors and breathtaking views. These exclusive accommodations provide the ultimate indulgence for discerning travelers seeking an unforgettable and lavish stay in the Pink City.
Laxmi Palace Heritage Boutique Hotel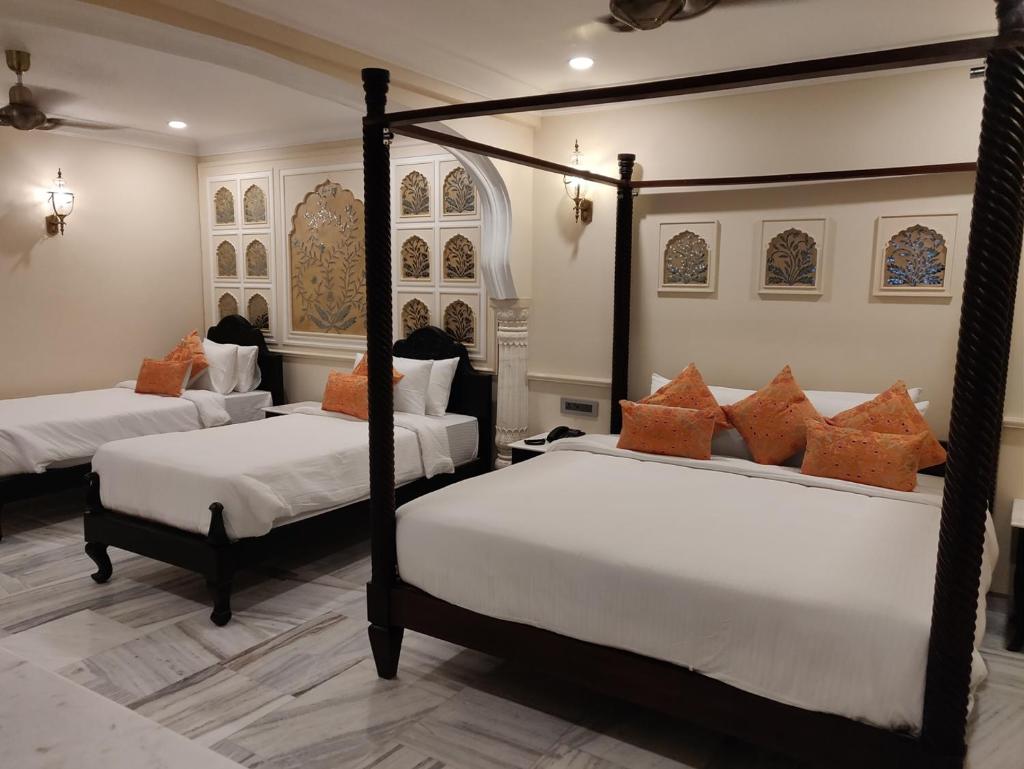 The Laxmi Palace Heritage Boutique Hotel in Jaipur is a stunning example of heritage style with a transitional theme. The hotel boasts beautiful paintings, exceptional architecture, and an attractive lobby. Its open terraces create a lovely ambiance for guests to enjoy. The comfortable rooms are furnished with antique pieces that add to the overall charm of the hotel. One highlight is the exquisite Fresco Miniature paintings on display throughout the property. Guests can also delight in dining at the rooftop restaurant, which offers not only delicious local dishes but also a live puppet show for entertainment.
– Convenient location near bus stand, train station, and airport
– Free WiFi and parking available
– Bicycle and car rental services provided
– Currency exchange and ticket services for guest convenience
– Well-equipped business center for business travelers
Doubletree By Hilton Jaipur Amer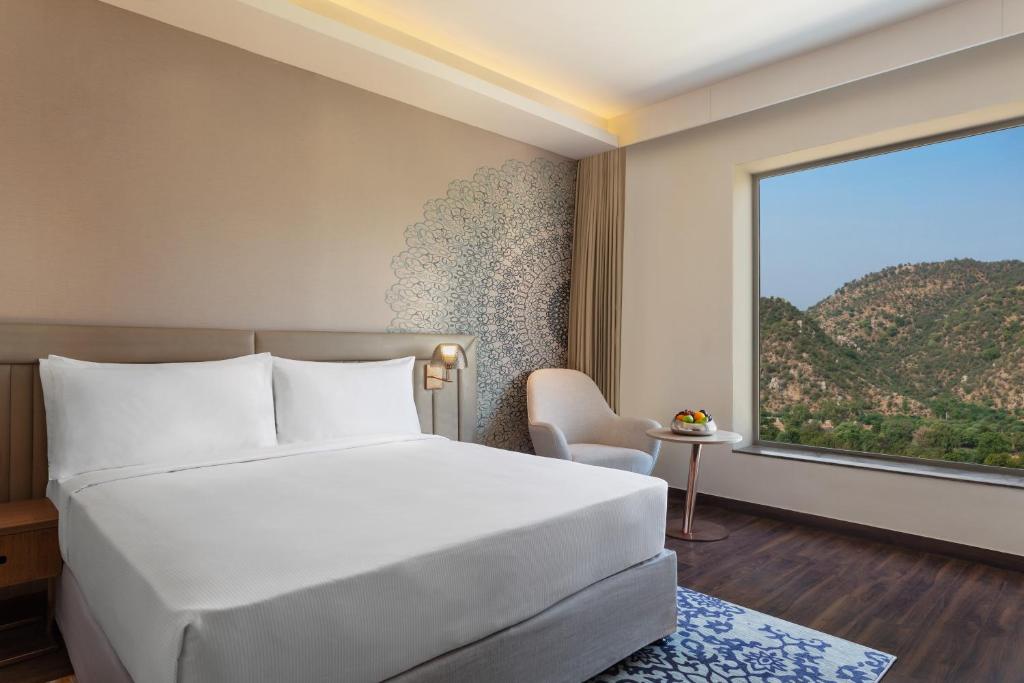 Opened in March 2020, Doubletree By Hilton Jaipur Amer is a luxurious 5-star hotel located in Jaipur. This stunning property offers a range of amenities including a restaurant, outdoor swimming pool, fitness centre, and bar. The air-conditioned rooms are tastefully decorated and feature private bathrooms. Guests can enjoy free WiFi throughout the hotel and take in breathtaking views of the Aravalli Hills from their rooms. The onsite restaurant showcases grill performances while the Rooftop Bar offers hill views and live music for entertainment. Additional facilities include a fitness centre, spa, tea lounge, children's area, and spacious event space for special gatherings. With its convenient location near popular attractions like Elephant Village and Jaigarh Fort, Doubletree By Hilton Jaipur Amer is the perfect choice for travelers looking to explore the beauty of Jaipur.
Umaid Bhawan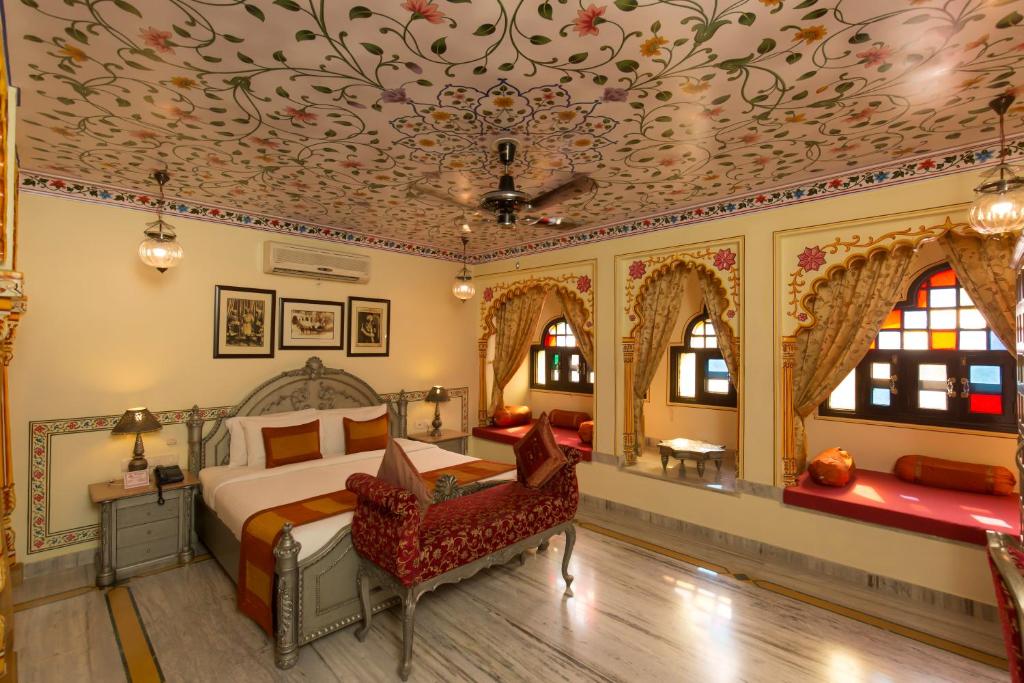 Umaid Bhawan, a hotel built in traditional style and located in Jaipur, offers a charming blend of heritage and luxury. The hotel boasts beautifully carved balconies, attractive courtyards, open terraces, and a lovely garden. The rooms are adorned with antique furnishings that showcase the skill and expertise of Rajasthani artisans. In addition to its aesthetic appeal, Umaid Bhawan impresses guests with its array of amenities and services. There is a swimming pool adorned with Fresco Miniature paintings for guests to enjoy, as well as a rooftop restaurant that offers both delicious local dishes and live puppet shows. The hotel also provides free WiFi and parking for added convenience. Furthermore, Umaid Bhawan goes the extra mile by offering free pick-up service from Jaipur Railway Station and the Central Bus Stand. Guests can also take advantage of bicycle and car rental services to explore the city or arrange daytrips at the tour desk. With its warm hospitality, beautiful surroundings, and convenient location just 1 km from Sindhi Camp Central Bus Stand and 13 km from Jaipur International Airport, Umaid Bhawan ensures a memorable stay for all its guests.
Pros:
– Beautifully carved balconies
– Antique furnishings showcasing Rajasthani craftsmanship
– Swimming pool with Fresco Miniature paintings
– Rooftop restaurant serving local dishes with live puppet shows
– Free pick-up service from Jaipur Railway Station
Penthouse Suites in Jaipur
Penthouse Suites in Jaipur offer a luxurious and opulent experience for discerning travelers. With spacious layouts, exquisite decor, and stunning panoramic views, these suites epitomize indulgence and provide the perfect backdrop for an unforgettable stay in the Pink City.
Hilton Jaipur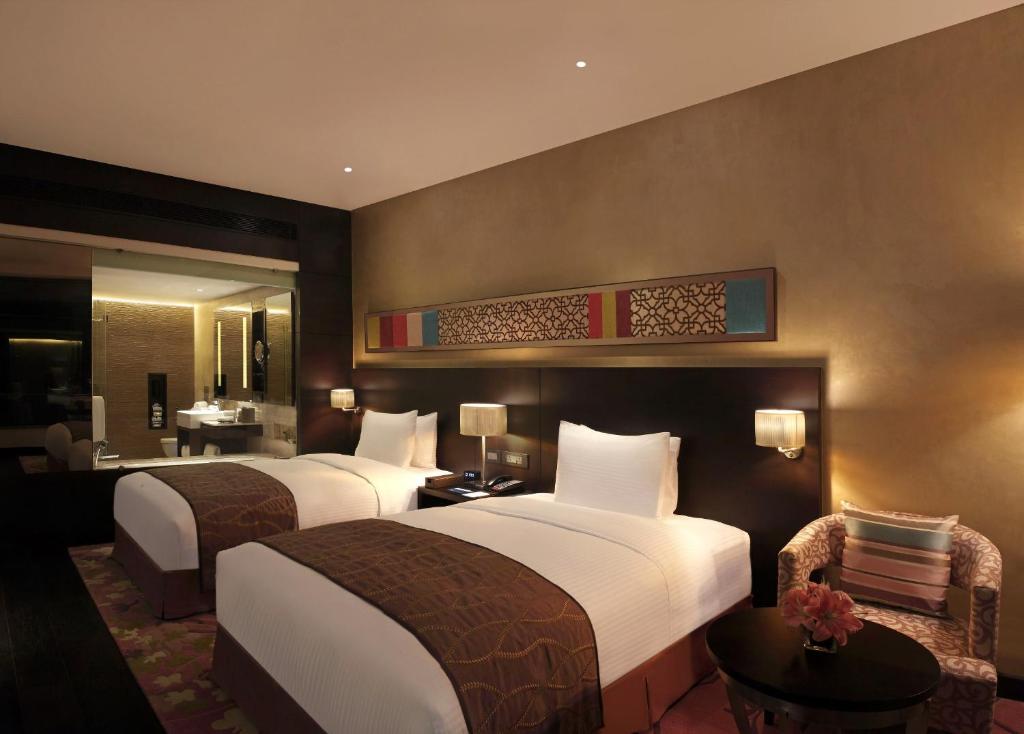 Located just a 10-minute drive from Jaipur Railway Station and a 25-minute drive from Jaipur International Airport, Hilton Jaipur offers guests a luxurious stay with its stunning views of the scenic Aravalli hills. The richly decorated rooms are equipped with air-conditioning, flat-screen satellite TV, and a seating area. Each room also includes a minibar and a safety deposit box for added convenience. Guests can enjoy the hotel's many facilities including a swimming pool, fitness center, concierge service, tour desk, room service, currency exchange, spa and salon services, and safety deposit lockers. The attached bathrooms feature a bathtub, hairdryer, and complimentary toiletries. Dining options at Hilton Jaipur include Aurum – an all-day dining restaurant serving continental delicacies; Chandi – offering delightful Indian cuisine; Krystal – serving alcoholic and non-alcoholic beverages; and Nebulae – their trendy rooftop lounge where guests can enjoy glocal cuisine while grooving to the beat of the resident DJ. For business travelers, Hilton Jaipur offers world-class boardrooms and meeting rooms. The hotel is conveniently located just 4 km from the iconic Hawa Mahal, 5 km from City Palace, 6 km from Albert Hall Museum,and 8 km from Jantar Mantar. With its prime location only12 km away from Jaipur International Airport,Hilton Jaipur ensures easy access for guests arriving by air.
– Spectacular views of the Aravalli hills
– Luxurious rooms with modern amenities
– Variety of dining options available
– Convenient location near popular tourist attractions
– State-of-the-art facilities for business travelers
Jaipur Hotel Suites Main Information
| | |
| --- | --- |
| 🏢 Number of Hotel Suites in Jaipur | 10 |
| 🥇 Average Review Score | 8.3/10 |
| 💰 High season average price | 954 |
| 💸 Low season average price | 238.5 |
FAQ
Can you recommend any luxury hotel suites in Jaipur?
Yes, there are several luxurious hotel suites in Jaipur that offer a memorable stay. The Raj Palace, known as the world's best heritage hotel, features opulent suites with richly decorated interiors and modern amenities. Another great option is the Rambagh Palace, which was once the residence of Maharaja of Jaipur and now offers elegantly designed suites with stunning views of lush gardens. Lastly, the Oberoi Rajvilas is renowned for its lavish villas and tented accommodations inspired by royal Mughal architecture.
What are some popular attractions near hotel suites in Jaipur?
Jaipur has numerous attractions located conveniently close to many hotel suites. One such attraction is the magnificent Amer Fort, situated just a short distance from most hotels. This UNESCO World Heritage Site showcases impressive architecture and breathtaking views of the city. Additionally, Hawa Mahal, also known as the Palace of Winds, is another must-visit attraction offering a glimpse into Rajasthan's rich history and culture.
Do all hotel suites in Jaipur have private balconies or terraces?
While not all hotel suites in Jaipur have private balconies or terraces, many do offer this feature to enhance guests' experience. For example, at The Oberoi Rajvilas, each villa comes with a private terrace where guests can relax amidst serene surroundings. Similarly, at Samode Haveli, some suites boast balconies overlooking the beautiful courtyard or pool area.
Are there any family-friendly hotel suite options in Jaipur?
Yes! Several hotels in Jaipur offer family-friendly suite options that cater to both adults and children. The Fairmont Jaipur features spacious interconnecting rooms ideal for families traveling together. Additionally, The Tree House Resort offers unique treehouse accommodations with multiple bedrooms that provide privacy while maintaining a sense of togetherness.
What additional services can I expect from hotel suites in Jaipur?
Hotel suites in Jaipur often go above and beyond to provide exceptional services to their guests. Most luxury hotels offer personalized butler service, ensuring that your every need is taken care of. Many hotels also feature world-class spas where you can indulge in rejuvenating treatments and therapies. Additionally, most hotel suites offer gourmet dining options, allowing you to savor delicious meals without leaving the comfort of your suite.
Popular Hotels with Suites destinations