Welcome to the enchanting world of hotel suites in the vibrant Miami Beach, situated on the sun-kissed coast of the United States. Prepare yourself for a captivating journey as we explore these luxurious accommodations that will transport you to a realm of opulence and indulgence. From lavish penthouses to stylish oceanfront retreats, Miami Beach offers an array of magnificent abodes that are sure to leave you spellbound.
Picture yourself waking up to panoramic vistas of turquoise waters and powdery white sand from your private haven perched atop a skyscraper. The awe-inspiring suites found here redefine sophistication, with their tasteful decor, state-of-the-art amenities, and impeccable service. Immerse yourself in pure bliss as you unwind on expansive balconies or rejuvenate in elegantly designed spa-like bathrooms. Whether you seek a tranquil oasis or a glamorous hideaway, these sublime accommodations cater to every whim imaginable.
Miami Beach is not only renowned for its eclectic art scene and vibrant nightlife but also for its extraordinary range of dazzling hotel suites. Join us as we embark on this unforgettable exploration uncovering the epitome of luxury nestled along this iconic shoreline.
Top Miami Beach Suites
Hotel Victor South Beach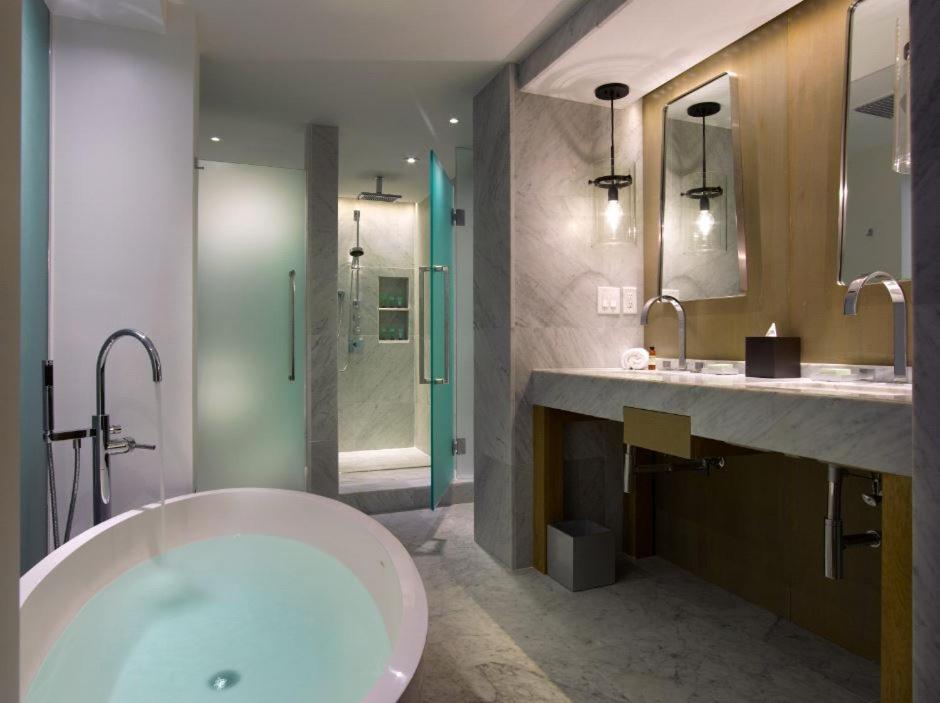 Hotel Victor South Beach is a luxury hotel located in South Beach, offering guests a stunning pool with Atlantic Ocean views. The rooms are equipped with modern amenities such as flat-screen TVs and MP3 docking stations, ensuring a comfortable stay. Guests can indulge in relaxation at the hammam spa, which provides Turkish-style bathhouses, massage services, and other rejuvenating spa treatments. Each room features modern bathrooms with bathrobes, plush white bedding for ultimate comfort, and windows that offer tropical views. For those looking to explore South Beach, the property offers bike rentals. The hotel's prime location allows easy access to the Art Deco District within a 5-minute walk and popular attractions like Lincoln Road Mall within a short drive. Additionally, guests will be delighted to find that the Versace Mansion is adjacent to the property.
Pros:
– Stunning pool overlooking the Atlantic Ocean
– Modern amenities in rooms including flat-screen TVs and MP3 docking stations
– Relaxing hammam spa with Turkish-style bathhouses and massage services
– Comfortable rooms featuring modern bathrooms, plush bedding, and tropical views
– Convenient location near popular attractions like the Art Deco District and Lincoln Road Mall
Kimpton Angler's Hotel South Beach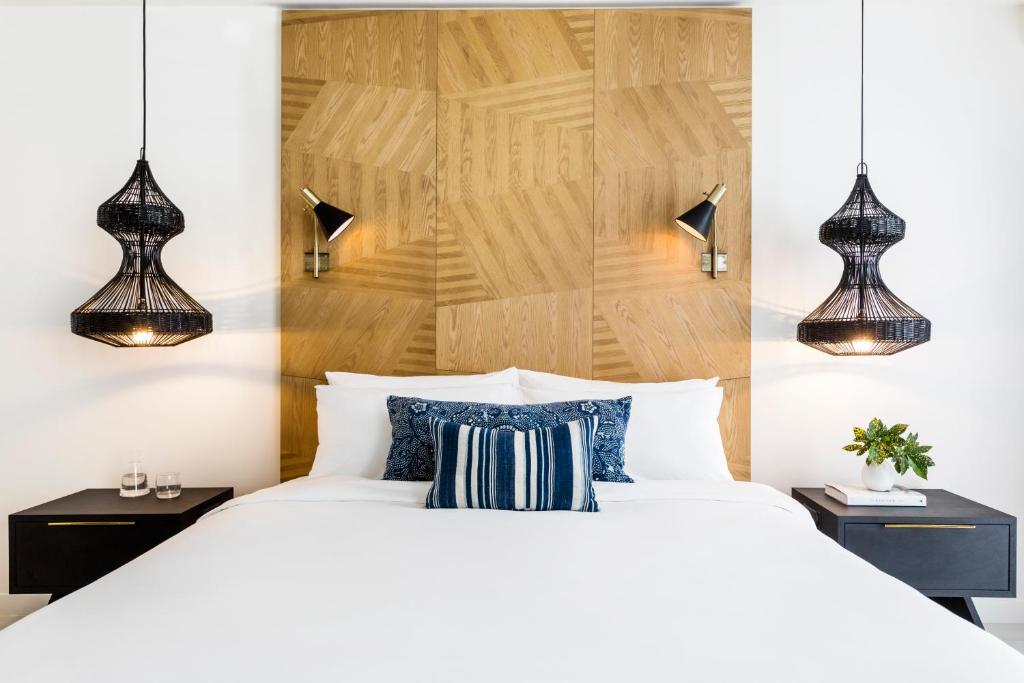 Located in the heart of Miami Beach, Kimpton Angler's Hotel South Beach is a stunning resort that combines historic charm with modern luxury. The Mediterranean Revival setting creates a beautiful backdrop for guests to enjoy their stay. With a rooftop pool and bar, guests can relax while taking in panoramic views of the city. The hotel also offers eco-friendly amenities and delicious dining options to cater to all preferences. The elegant studios feature comfortable seating areas and plasma TVs, creating a cozy environment for guests to unwind. Additionally, the hotel provides complimentary services such as social hours every evening and morning coffee and tea. Free Wi-Fi, concierge services, beach bags with towels and water bottles, as well as bike rentals are also available for guests' convenience. Plus, the resort fee covers gym passes at Orange Theory Fitness nearby. For those looking for outdoor activities, Miami Beach Marina is just four blocks away, offering various watersport activities. With its prime location and exceptional amenities, Kimpton Angler's Hotel South Beach is an ideal choice for travelers visiting Miami.
– Rooftop pool with bar and lounge
– Eco-friendly amenities
– Complimentary social hour every evening
– Elegant studios with minibars
– Close proximity to Miami Beach Marina
The Altair Bay Harbor Hotel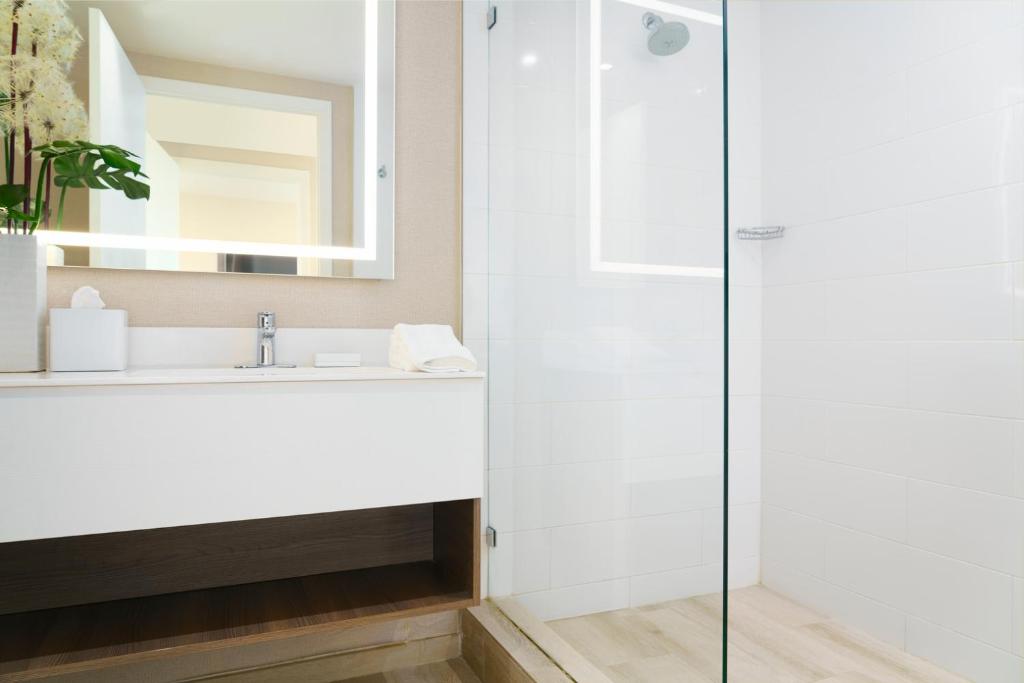 The Altair Bay Harbor Hotel is a luxurious 4-star hotel located in Miami Beach. With its grand opening in September 2021, this hotel offers an array of amenities to ensure a memorable stay. Guests can indulge in delicious kosher cuisine at the on-site restaurant, take a refreshing dip in the outdoor swimming pool, work up a sweat at the fitness centre, or simply unwind in the shared lounge. The hotel also features a 24-hour front desk and a business centre for any additional needs. Each air-conditioned room is thoughtfully designed and equipped with modern comforts such as a desk, kettle, fridge, safety deposit box, flat-screen TV, and private bathroom with shower. Some rooms even offer kitchenettes with microwave and stovetop for added convenience. Guests can start their day off right with buffet and kosher breakfast options available every morning. For those looking to relax and rejuvenate, The Altair Bay Harbor Hotel offers 4-star accommodation complete with a hot tub and sun terrace. Conveniently located near popular attractions like Surfside Beach, Bal Harbour Beach, and Haulover Beach, this hotel provides easy access to explore the beauty of Miami Beach. The nearest airport is Miami Seaplane Base Airport which is just 12 km away.
– Kosher restaurant offering delectable cuisine
– Outdoor swimming pool for relaxation
– Fitness centre to stay active during your stay
– Hot tub & sun terrace for ultimate relaxation
– Buffet & kosher breakfast options available
Other places to stay in Miami Beach
Hotel Suites in Downtown Miami Beach
Hotel Suites in Downtown Miami Beach offer a luxurious and vibrant accommodation option for visitors. With their prime location, guests can enjoy stunning views of the cityscape while indulging in spacious and beautifully designed suites, providing the ultimate comfort and style during their stay.
The Setai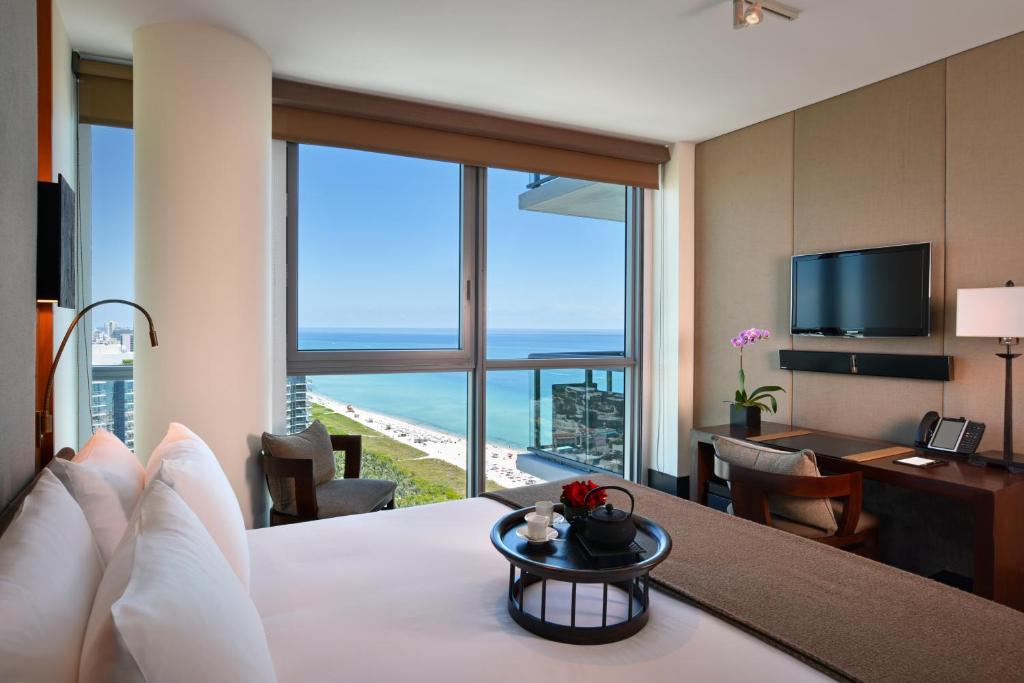 Located directly on the beach in Miami's famous Art Deco district, The Setai is a luxurious resort that offers a serene and Asian-inspired retreat. The suites are elegantly furnished with Asian-style décor, providing guests with a tranquil and sophisticated ambiance. Guests can indulge in yoga and tai-chi classes or pamper themselves at the on-site spa which offers various massages and treatments including the indulgent 60-minute Nepalese Body Polish. Each spacious suite at The Setai comes with free WiFi, an iPod docking station, espresso and coffee facilities, as well as a minibar. The resort boasts three infinity swimming pools for guests to relax in, along with a business center for those who need to stay connected. With concierge services available, guests can receive personalized recommendations to enhance their stay. Food enthusiasts will be delighted by the four on-site restaurants including The Setai Grill where American steakhouse cuisine meets Asian-inspired flavors. The Bar & Courtyard also offers nightly drinks and snacks for those looking to unwind after a long day of exploration. For avid golfers, Bayshore Golf Course is just 1.6 km away from the resort while popular attractions such as Lummus Park and Bass Museum of Art are within walking distance.
Pros:
– Beautiful beachfront location in Miami's Art Deco district
– Serene ambiance with Asian-style decor
– On-site spa offering luxurious massages and treatments
– Three infinity swimming pools for relaxation
– Multiple dining options serving diverse cuisines
The Betsy Hotel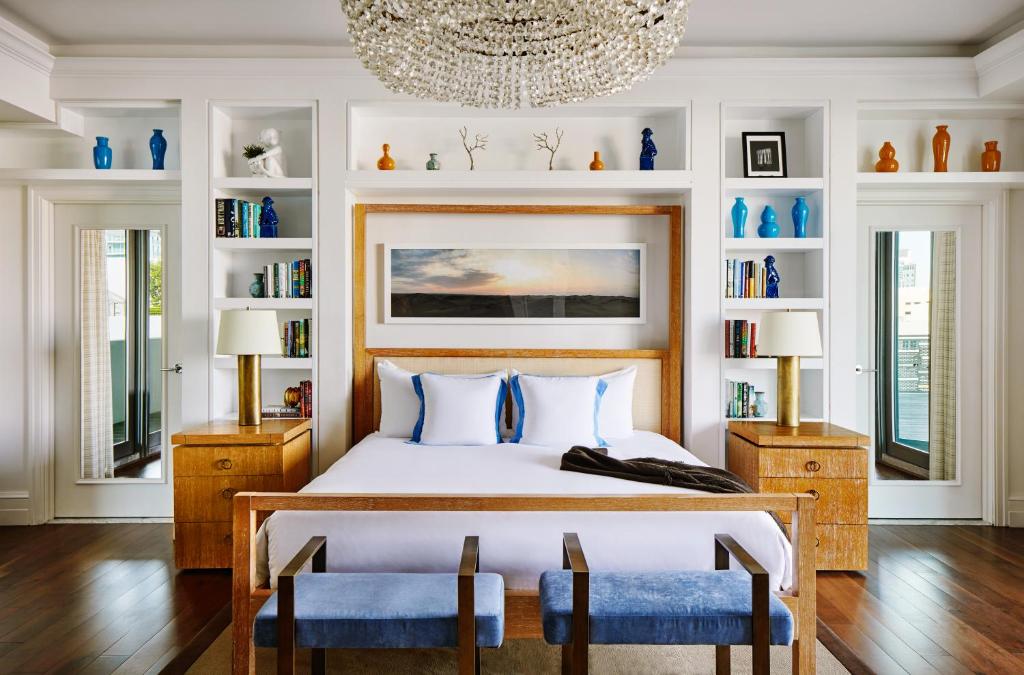 Located on the vibrant Ocean Drive in South Beach, The Betsy Hotel offers a luxurious experience with its direct beach access and stunning rooftop pool that boasts 360-degree views. Each room is beautifully decorated with fresh orchids and original art and features hardwood floors and marble bathrooms. Guests can enjoy a flat-screen TV, minibar, and the convenience of private beach service including chairs and umbrellas. The hotel also offers an on-property library, fitness center with Peloton bikes, and a rooftop Ocean Deck where guests can sip cocktails while taking in breathtaking ocean views or participate in sunrise yoga sessions. Dining options include the contemporary American steakhouse LT Steak & Seafood, as well as the Lobby Bar for handcrafted cocktails and Carlton Room Café for coffee beverages. With its prime location near luxury shopping, dining, entertainment venues like Lincoln Road Mall with its art exhibitions and nightly live jazz halls are just steps away from The Betsy Hotel.
– Direct beach access
– Stunning rooftop pool with 360-degree views
– Beautifully decorated rooms adorned with fresh orchids and original art
– Private beach service including chairs and umbrellas
– On-property library
Cavalier South Beach Hotel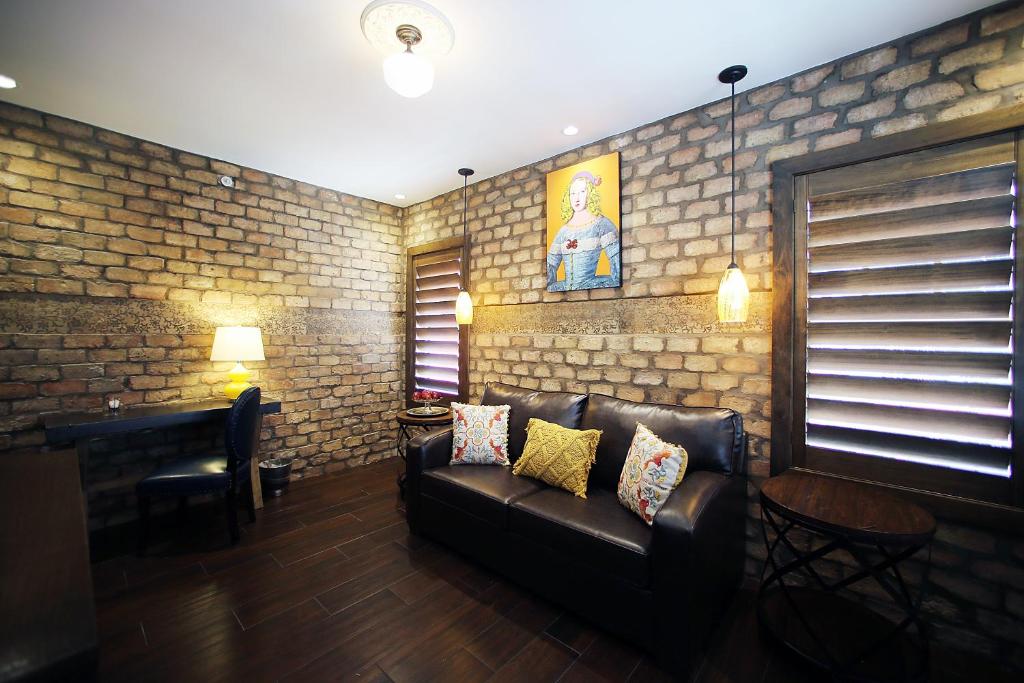 Conveniently located on the renowned Ocean Drive strip and just steps away from the stunning coral sands of South Beach, Cavalier South Beach Hotel offers guests a comfortable stay with modern amenities. Each vibrant room at this hotel features WiFi, satellite TV, air conditioning, and a private bathroom. For added convenience, select rooms are equipped with a coffee maker, work desk, and refrigerator. The hotel's front desk is available 24/7 to assist guests with any requests they may have and provides services such as newspaper delivery and luggage storage. Those in need of some relaxation can visit the nearby SoBe Spa, while adventure seekers can explore Flamingo Park which is only a short 5-minute drive away.
– Ideal location on Ocean Drive strip
– Colorful and vibrant rooms
– Helpful and friendly 24/7 front desk service
– Close proximity to SoBe Spa for ultimate relaxation
– Easy access to Flamingo Park for outdoor activities
Most Expensive Hotel Suites in Miami Beach
Miami Beach is home to some of the most extravagant and opulent hotel suites in the world. From breathtaking ocean views to lavish interiors, these accommodations offer a truly indulgent experience for those seeking the pinnacle of luxury.
The Confidante Miami Beach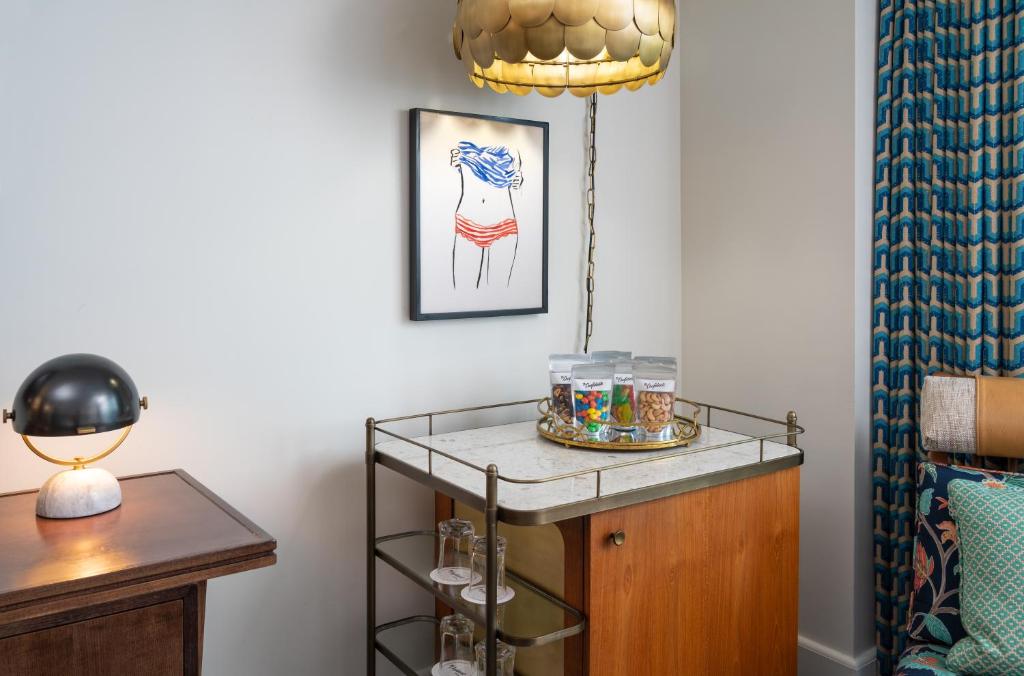 The Confidante Miami Beach, part of Hyatt, is a luxurious hotel in Miami Beach offering relaxing accommodation. The hotel boasts two heated outdoor pools with poolside lounges and an open-air spa. Guests can enjoy direct beach access and sample artisan cocktails and tapas in the bustling pool garden. Each retro-inspired room is equipped with modern amenities such as free WiFi, a flat-screen TV, and a private bathroom with a rain shower, hairdryer, and bathrobe. For those looking to indulge in some pampering, the 10th-floor spa offers body massages and facials. Additionally, the hotel's convenient location allows guests to explore attractions like the world-famous Lincoln Road Mall (just a 9-minute drive away) or play a round of golf at Bayshore Golf Course (2.4 km drive). With its perfect combination of relaxation and luxury, The Confidante Miami Beach is an ideal choice for travelers seeking an unforgettable stay.
– Two heated outdoor pools with poolside lounges
– Open-air spa offering body massages and facials
– Direct beach access
– Retro-inspired rooms with modern amenities
– Convenient location near popular attractions
Pestana South Beach Hotel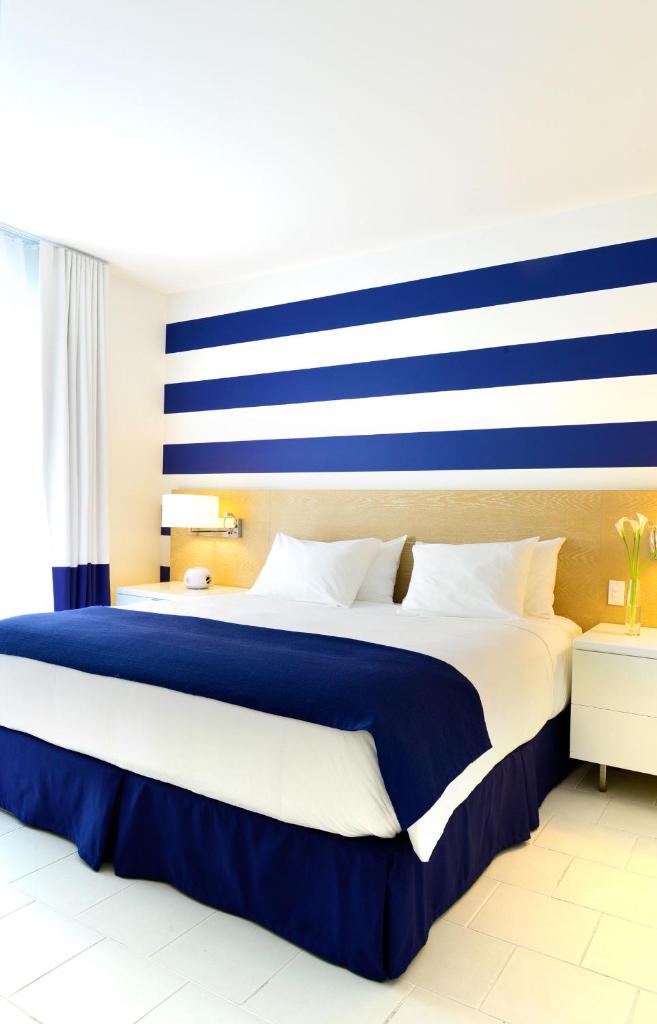 The Pestana South Beach Hotel is a Miami gem, located just 8 minutes' walk from the luxurious shops and dining options at Lincoln Road Mall, as well as a mile away from the vibrant Miami Art Deco District. Guests are treated to free Wi-Fi throughout their stay and can indulge in delicious meals at the on-site restaurant. The hotel's central courtyard provides a tranquil retreat from the bustling energy of Miami Beach. Each guest room is well-appointed with modern amenities including an iPod docking station, cable TV, and coffee-making facilities. Some rooms offer delightful views of the garden, city, or pool. The Pestana South Beach Hotel also offers access to convenient services like a business center, bicycle hire, and an on-site launderette. Additionally, guests will find themselves within walking distance to attractions such as the Bass Museum of Art and the Miami Beach Convention Center while being merely steps away from beautiful sandy beaches.
– Prime location near upscale shops and dining
– Free Wi-Fi for all guests
– Pleasant courtyard oasis
– Well-equipped rooms with iPod docking stations
– Convenient amenities including business center and bicycle hire
The Tony Hotel South Beach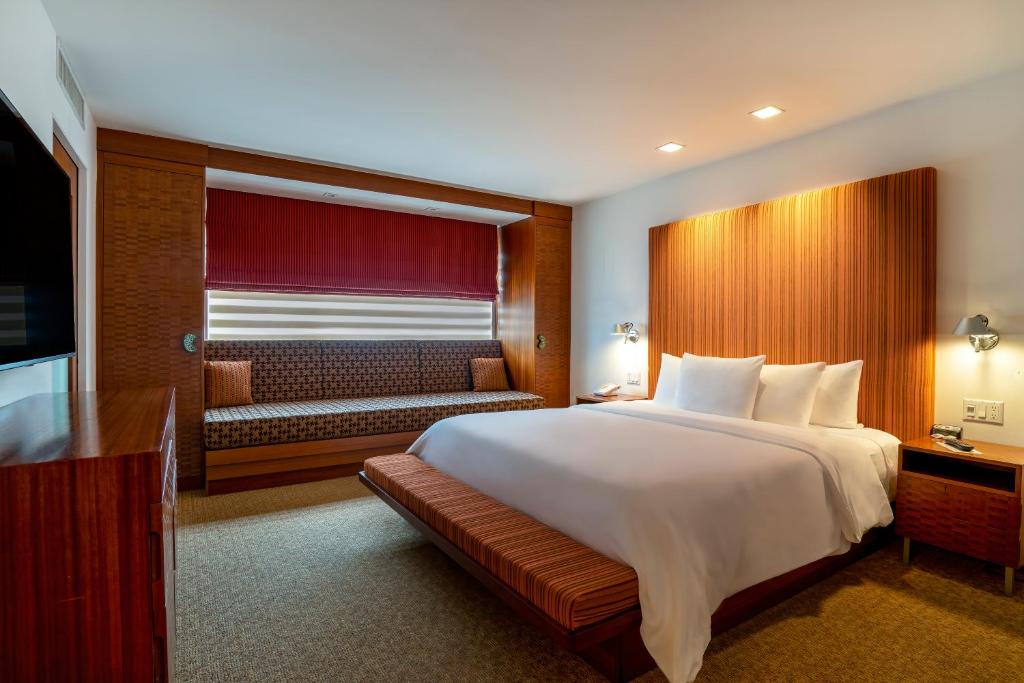 Located in the centre of South Beach, The Tony Hotel offers guests a boutique experience with a range of luxurious amenities. This hotel is just a short walk away from beautiful beaches and is surrounded by charming cafes, famous restaurants, and luxury boutique shops. Guests can take in stunning views from the rooftop swimming pool or unwind with a cocktail at the rooftop bar and lounge. With an on-site fitness studio and free use of beach chairs, staying active and enjoying the sun is made easy. The hotel's accommodations are completely non-smoking and feature modern technologies such as flat-screen TVs. Custom-made furniture, free wireless internet access, and rain-head showers add to the comfort of each guestroom.
Pros:
– Ideal location in the heart of South Beach
– Rooftop swimming pool with stunning views
– On-site fitness studio for guests to stay active
– Free use of beach chairs for maximum relaxation
– Modern amenities including flat-screen TVs
Penthouse Suites in Miami Beach
Penthouse suites in Miami Beach offer the epitome of luxury and indulgence, with expansive living spaces, breathtaking views of the ocean or city skyline, and lavish amenities. These exclusive accommodations provide a private retreat for discerning travelers seeking an opulent experience in this vibrant coastal destination.
Pelican Hotel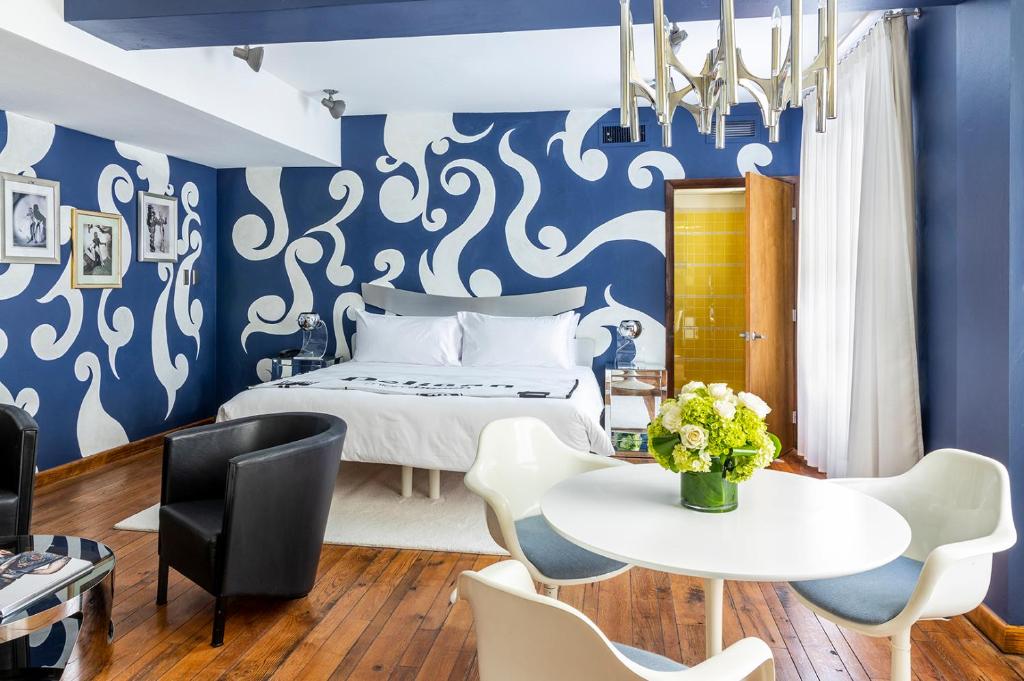 Located in the heart of South Beach, directly opposite the beach, Pelican Hotel is a charming boutique hotel that offers guests a delightful stay. With an array of amenities and services, guests can indulge in relaxation and luxury during their visit. The hotel features a fitness center for those looking to stay active, as well as a massage service for ultimate relaxation. Guests can also enjoy delectable meals at Pelican Cafe, which serves international cuisine as well as freshly baked breads, pastries, and pizza throughout the day. All guest rooms are elegantly furnished with antique decor and equipped with modern amenities such as flat-screen cable TVs and coffee-making facilities. Select rooms offer stunning sea views and iPod docking stations. The concierge staff is available to assist guests in planning excursions or finding souvenirs at the gift shop. Additionally, the hotel provides a 24-hour reception for added convenience. During limited early evening hours and special events, an open bar is available for guests to enjoy. For those looking to explore outside of the hotel's premises, popular attractions such as Miami Beach Convention Center (2 miles away) Bicentennial Park and Bayside Marketplace (5 miles away) are easily accessible from Pelican Hotel.
Pros:
– Convenient location in the heart of South Beach
– Directly opposite the beach
– Charming boutique hotel with elegant antique furnishings
– On-site restaurant serving international cuisine and freshly baked goods
– Helpful concierge staff available for excursion planning
1 Hotel South Beach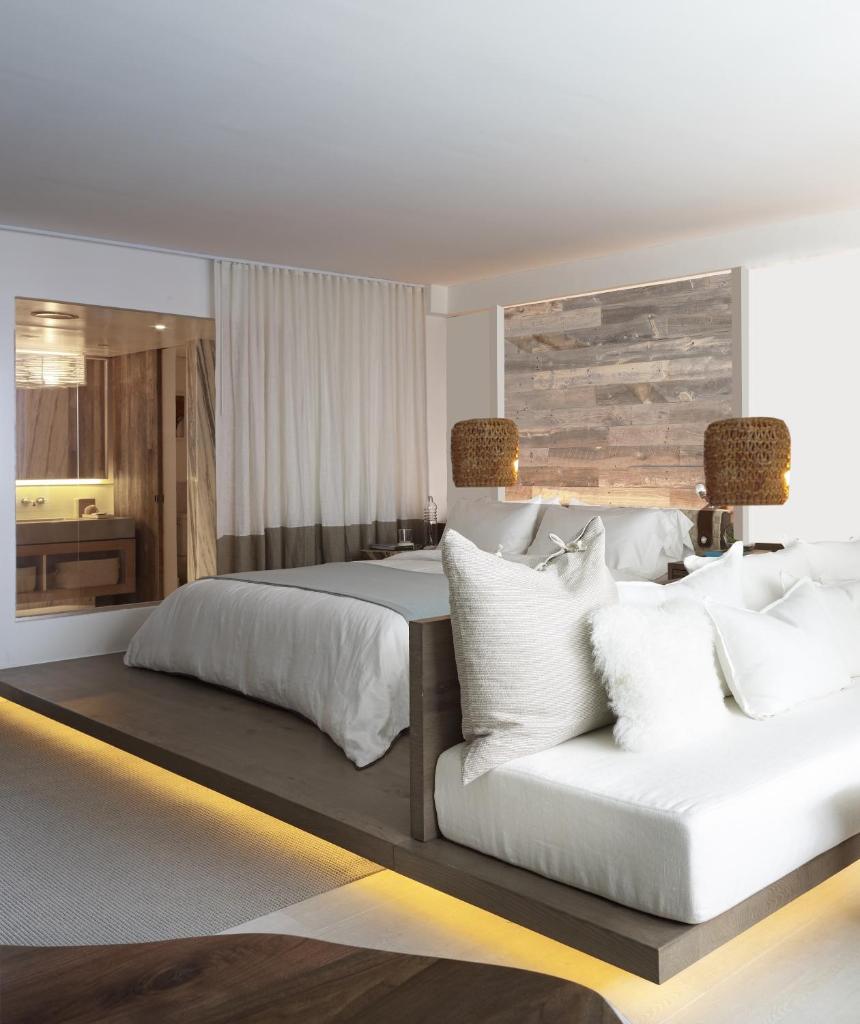 The 1 Hotel South Beach is a luxury oceanfront hotel that offers a range of amenities and services to ensure a memorable stay. With its private beach area and on-site dining options, guests can enjoy the ultimate beachfront experience. The hotel boasts 4 swimming pools, including an exclusive rooftop pool for adults, providing the perfect setting for relaxation and soaking up the sun. Each room at 1 Hotel South Beach comes equipped with a tablet featuring daily digital newspapers, as well as a 55-inch smart flat-screen TV for entertainment. For those in need of refreshments, there's a mini bar stocked with tempting treats, an in-room water filtration system for pure drinking water, and an espresso machine with organic coffee to satisfy caffeine cravings. The hotel also offers access to a fitness center and spa and wellness center where guests can unwind and rejuvenate during their stay. Additionally, adventure enthusiasts can indulge in exciting watersports activities while kids are kept entertained with various children's club activities. With four on-site snack and beverage bars available, as well as 24-hour in-room dining services, guests will have plenty of options when it comes to satisfying their cravings without leaving the comfort of the hotel. Located just 1.2 km from the Lincoln Road Mall for shopping enthusiasts and only a 5-minute drive from the bustling nightlife and dining scene of South Beach city center, this hotel offers convenience along with luxury.
– Private beach area
– Rooftop pool exclusively for adults
– In-room tablet with daily digital newspapers
– Organic coffee provided in each room
– Access to fitness center and spa
Hilton Bentley Miami/South Beach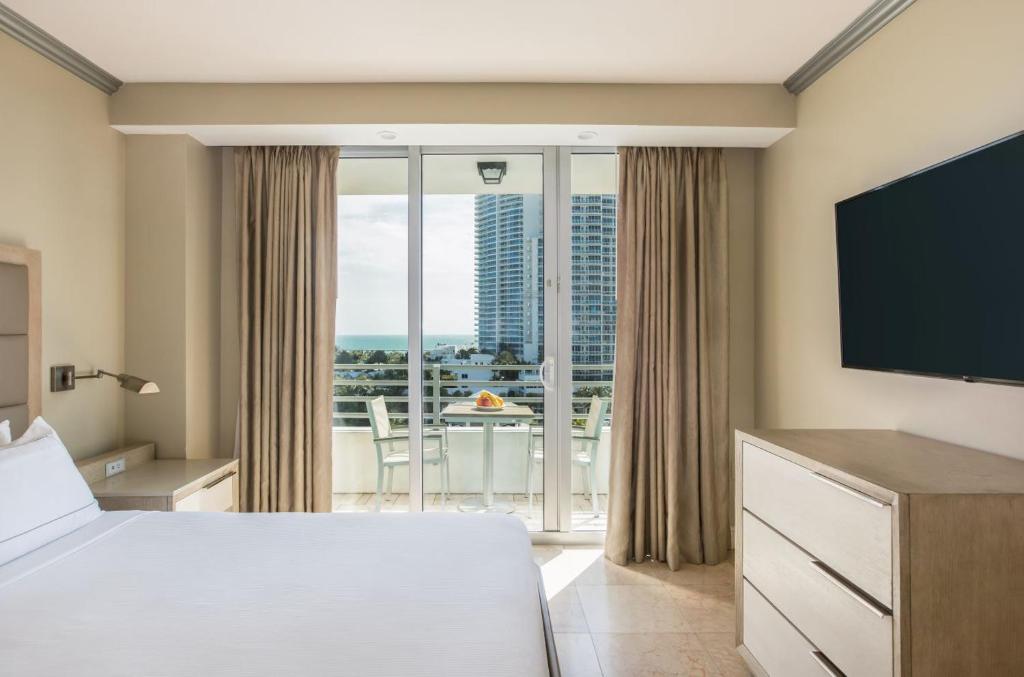 The Hilton Bentley Miami/South Beach is an elegant all-suite hotel located on the beachfront, offering stunning views of the Atlantic Ocean and South Beach's Art Deco district. Guests can relax in style with Spa101's massage treatments and facials or take a dip in the outdoor pool. Each spacious suite features state-of-the-art furnishings, including kitchens or kitchenettes and flat-screen TVs. Santorini by Giorgios, located on site, serves both new and traditional Greek cuisine. The hotel is surrounded by popular attractions such as world-famous restaurants, luxury shopping, and vibrant nightlife. With the Miami Convention Center just a short drive away and Miami International Airport within easy reach, this hotel is a prime choice for travelers seeking luxury and convenience.
– Beachfront location with ocean views
– Spa101 offers indulgent massage treatments
– Spacious suites equipped with kitchens or kitchenettes
– On-site restaurant serving delicious Greek cuisine
– Close proximity to popular attractions, restaurants, shopping, and nightlife
Miami Beach Hotel Suites Main Information
| | |
| --- | --- |
| 🏢 Number of Hotel Suites in Miami Beach | 12 |
| 🥇 Average Review Score | 8.4/10 |
| 💰 High season average price | 1296 |
| 💸 Low season average price | 324 |
FAQ
What are the top luxury hotel suites in Miami Beach?
Miami Beach offers a plethora of luxurious hotel suites that cater to every type of traveler. The Faena Hotel Miami Beach boasts opulent suites with stunning ocean views and personalized butler service, while The Setai Miami Beach features spacious and modern suites with private terraces and access to exclusive amenities. Another top choice is the Fontainebleau Miami Beach, which offers elegant suites with contemporary furnishings and breathtaking views of the Atlantic Ocean.
Are there any affordable hotel suites in Miami Beach?
Yes, despite its reputation for luxury accommodations, Miami Beach also offers affordable hotel suites for budget-conscious travelers. The Catalina Hotel & Beach Club provides stylish and reasonably priced suites just steps away from the beach. Additionally, The Clay Hotel offers charming and cozy suite options at a more affordable rate without compromising on comfort or location.
What amenities can I expect in a typical hotel suite in Miami Beach?
In a typical hotel suite in Miami Beach, you can expect an array of luxurious amenities to enhance your stay. These may include spacious living areas with comfortable seating, well-equipped kitchenettes or full kitchens, plush bedding and linens for ultimate relaxation, modern bathrooms with high-end toiletries, flat-screen TVs and entertainment systems for your enjoyment, as well as complimentary Wi-Fi access throughout the suite.
Can I request additional services or upgrades for my hotel suite in Miami Beach?
Absolutely! Most hotels in Miami Beach are dedicated to providing exceptional service to their guests. Whether you desire additional housekeeping services during your stay or wish to upgrade your suite to enjoy even more extravagant features like private pools or panoramic views, simply make your requests known to the front desk or concierge staff who will be more than happy to accommodate your needs.
Is it necessary to book a hotel suite in advance when visiting Miami Bech?
While it's not always necessary to book a hotel suite in advance, it is highly recommended, especially during peak travel seasons when Miami Beach attracts tourists from around the world. By booking in advance, you can secure your preferred suite and take advantage of any early bird offers or discounted rates. It's always best to plan ahead to ensure a stress-free and enjoyable stay in this vibrant city.
Popular Hotels Suites destinations