Welcome to Napa, the charming city nestled in the heart of California's wine country. As an expert in opulent accommodations and lavish getaways, I am thrilled to bring you a tantalizing glimpse into the world of exquisite hotel suites that await you here. Whether you are an oenophile seeking a luxurious retreat or a leisure traveler yearning for indulgence, Napa boasts a plethora of sumptuous accommodations that will leave you spellbound.
Unwind and immerse yourself in pure elegance as these magnificent lodgings offer an unparalleled fusion of sophistication and comfort. From boutique hotels exuding rustic charm to contemporary establishments boasting cutting-edge design, Napa is teeming with suites that cater to every taste and preference. Picture yourself basking in the lap of luxury amidst sprawling living spaces adorned with plush furnishings, sweeping views of verdant vineyards stretching as far as the eye can see, and private terraces where you can savor your morning coffee while admiring breathtaking sunrises.
Prepare to be spoiled beyond measure as Napa's finest hotels pamper their guests with exceptional amenities and impeccable service fit for royalty. Relaxation knows no bounds with spas offering rejuvenating treatments inspired by ancient healing techniques or tranquil pools beckoning for a refreshing dip under the warm Californian sun. Embark on culinary journeys within these exclusive establishments where Michelin-starred restaurants serve up delectable dishes paired perfectly with world-renowned wines from nearby vineyards.
Join me on this enchanting escapade through Napa's most alluring hotel suites, where extravagance meets serenity, creating memories that will last a lifetime.
Top Napa Suites
The Westin Verasa Napa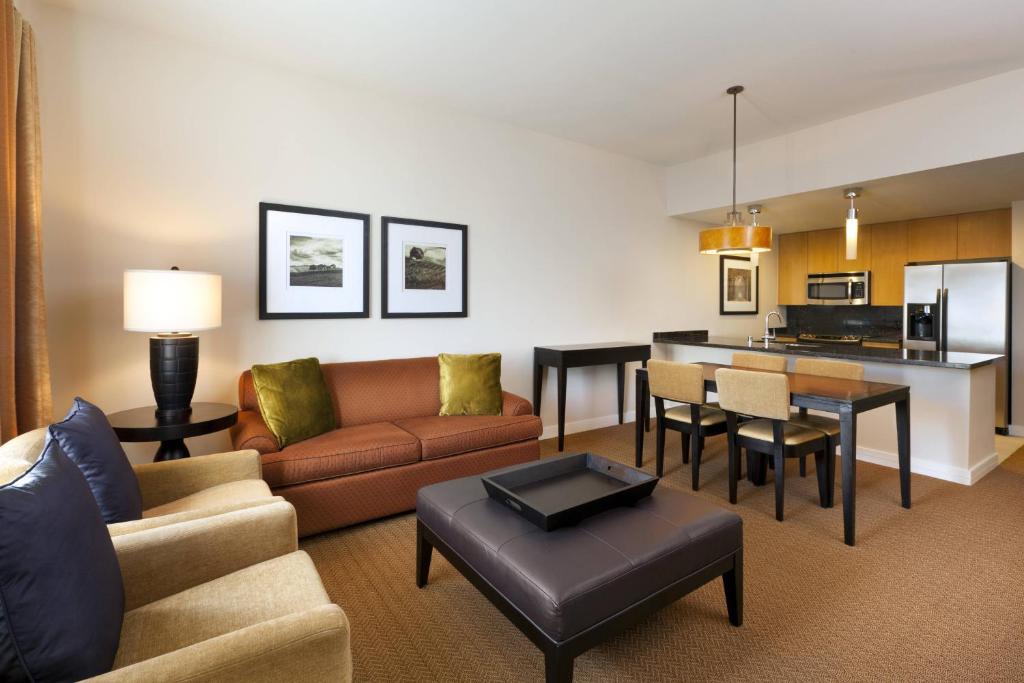 Located in the heart of Napa wine region, The Westin Verasa offers a luxurious and eco-friendly experience. With its gourmet restaurants and an outdoor saltwater pool boasting breathtaking mountain views, this hotel is perfect for those seeking a serene and indulgent getaway. The spacious suites are beautifully decorated in warm colors with bright accents and dark wood furniture. Each suite features a kitchenette, separate living room, two wall-mounted flat-screen TVs, and a private balcony. The bathrooms include a separate soaking tub and plush bathrobes for ultimate relaxation. Guests can unwind on the large sundeck or by the firepit on the terrace, while fitness enthusiasts can stay active at the modern gym or enjoy bocce courts. The concierge desk is also available to arrange wine tours for guests to explore the surrounding wineries. Fine dining awaits at La Toque, where modern French cuisine is served, while Bank Café and Bar offers all-day dining options both indoors and outdoors. With South Napa Marketplace just 2 miles away and numerous wineries within a mile's reach, The Westin Verasa-Napa is an ideal choice for experiencing the best of Napa Valley.
– Eco-friendly luxury in the heart of Napa Valley
– Beautifully decorated spacious suites with kitchenettes
– Outdoor saltwater pool with stunning mountain views
– Convenient location near South Napa Marketplace and wineries
– Gourmet dining options at La Toque restaurant
Bardessono Hotel and Spa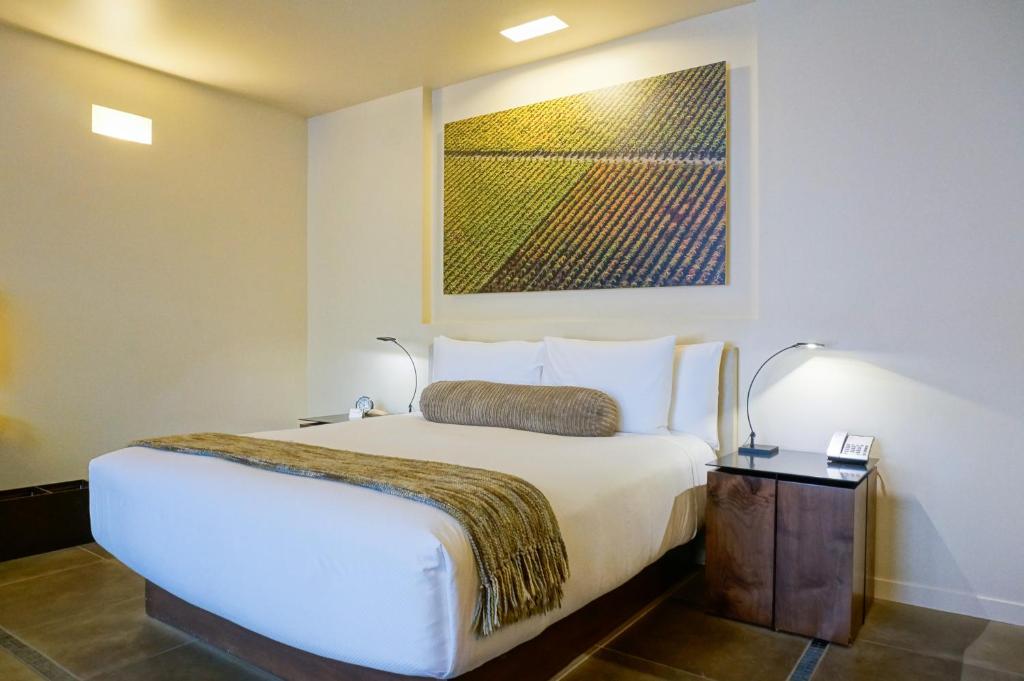 Bardessono Hotel and Spa is a luxurious five-star hotel located in California, offering spacious suites with private balconies, fireplaces, and comfortable sofas. The hotel boasts a convenient location within walking distance of Girard Winery and Somerston Wine Company. Guests can indulge in the full-service spa and enjoy delicious meals at the on-site restaurant that serves locally grown cuisine with organic ingredients. The suites feature amenities such as 40-inch flat-screen cable TVs, free Wi-Fi, desks, slippers, bathrobes, hairdryers, and refrigerators. Bardessono also provides a rooftop pool for relaxation and offers complimentary bicycle rentals to explore the surroundings. The B spa offers rejuvenating massages and a sauna for ultimate pampering. Guests can kickstart their Saturday mornings with an invigorating yoga class or participate in wine tasting at the bar on Friday nights. For outdoor enthusiasts, Napa Valley Bike Tours are conveniently located just half a mile away from Bardessono Spa. Additionally, this exquisite hotel is situated within 9 miles of Napa, California, Silverado Country Club, and Lake Hennessey.
Pros:
– Spacious suites with private balconies
– Luxurious amenities including fireplaces and sofas
– Full-service spa offering rejuvenating treatments
– Locally grown cuisine using organic ingredients at on-site restaurant
– Rooftop pool for relaxation
Grand Reserve at The Meritage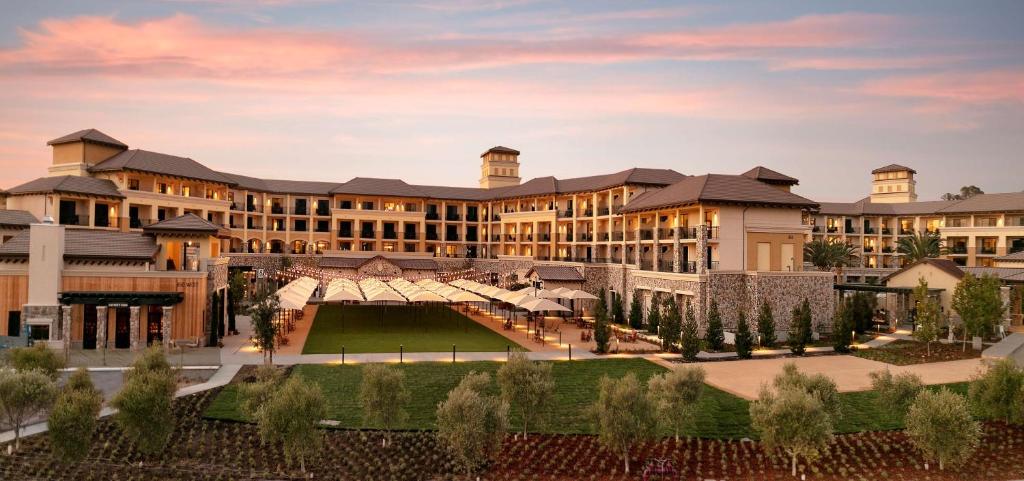 Located in Napa, just 6.4 km from downtown, Grand Reserve at The Meritage offers a luxurious and relaxing stay for guests. The resort features an outdoor swimming pool and 9 wine tasting rooms on the property, allowing guests to immerse themselves in the region's renowned wine culture. The air-conditioned rooms are equipped with modern amenities and each has a private bathroom and balcony with stunning views. Guests can enjoy delicious meals at Morimoto Restaurant or sample a variety of culinary delights at Fivetown Grocery. With a hot tub, fitness centre, and activities like hiking nearby, there is plenty to keep guests entertained during their stay. The hotel also provides a business centre for guest use and the reception staff are always ready to offer advice on exploring the area. Uptown Theater and Napa Valley Opera House are both within 6 km of the hotel, while Oakland International Airport is 59 km away.
– Free WiFi
– Outdoor swimming pool
– Wine tasting rooms on property
– Balcony with beautiful views
– Convenient location near downtown Napa
Other places to stay in Napa
Hotel Suites in Downtown Napa
Hotel suites in downtown Napa offer a lavish and indulgent experience, combining sophisticated design with breathtaking views. These suites provide the perfect escape for both leisure and business travelers looking to immerse themselves in the charm and culture of Napa Valley.
R Inn Napa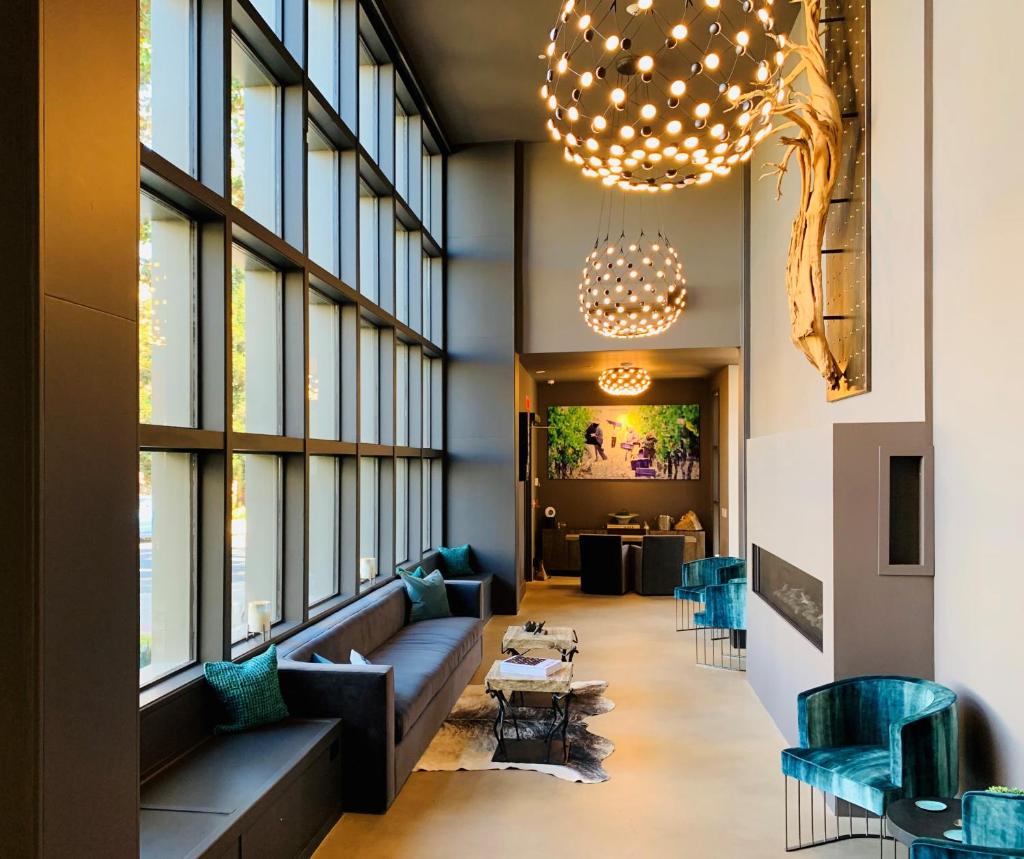 Located in the heart of downtown Napa, R Inn Napa is a beautifully re-imagined historic building that offers a unique and artistic accommodation experience. Inspired by European art hotels, this family owned and operated inn features 10 stylish air-conditioned rooms set around an open air courtyard, creating a private urban oasis. The property showcases the beautiful artwork of the artist "Rags" throughout, adding to its charm and character. Guests can enjoy the convenience of free on-site parking and WiFi, as well as complimentary coffee and tea. Upon arrival, guests are greeted with a bottle of wine to start their stay off on a high note. With easy self-check-in through keypad entry, guests have the freedom to come and go at their own pace. The inn is conveniently located within walking distance of attractions such as Oxbow Public Market and Napa Valley Hot Air Balloons, making it an ideal choice for those looking to explore all that Napa has to offer.
– Unique architecture and artwork by "Rags"
– Free on-site parking
– Complimentary coffee and tea
– Bottle of wine upon arrival
– Convenient location near attractions
Marriott Napa Valley Hotel & Spa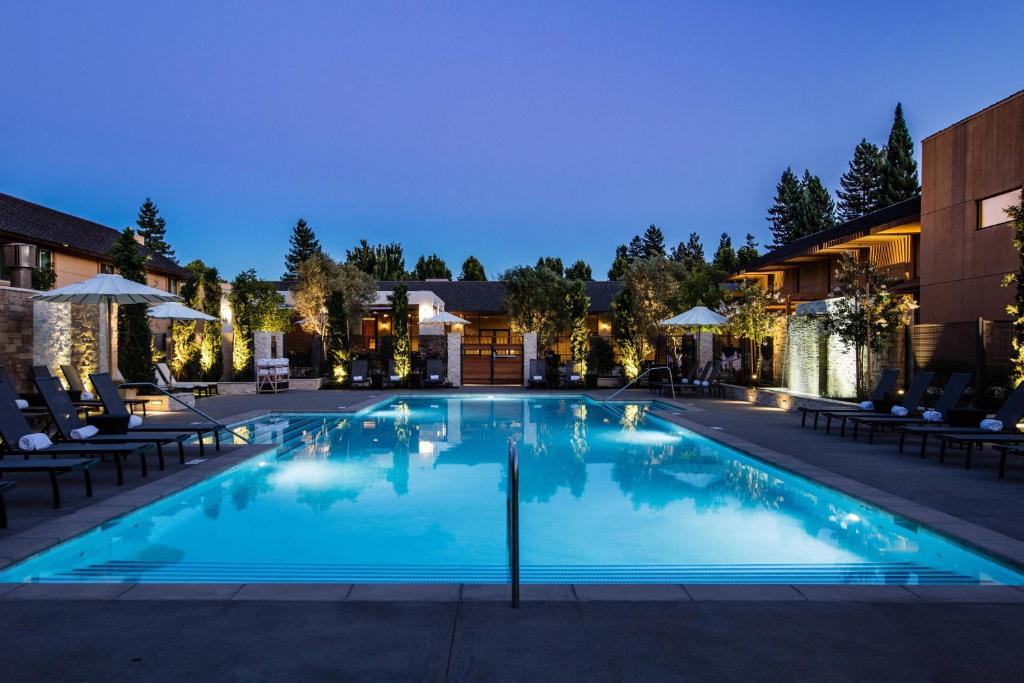 The Marriott Napa Valley Hotel & Spa is ideally located within a 15-minute drive of Artesa Vineyards & Winery, making it a perfect choice for wine enthusiasts. This luxurious hotel boasts a full-service spa, where guests can indulge in rejuvenating treatments, as well as an inviting outdoor swimming pool to relax and unwind. With two on-site restaurants, guests can enjoy delicious meals without having to leave the hotel. Each room at the Marriott Napa Valley Hotel & Spa is well-appointed with modern amenities such as a 37-inch flat-screen TV with cable channels and pay-per-view movies. Additionally, every room features a refrigerator and coffee maker for added convenience. For entertainment purposes, all rooms are fully equipped with Enseo entertainment systems. Guests looking to maintain their fitness routine can make use of the gym or take a refreshing dip in the jacuzzi. The hotel also offers a full-service business center and concierge desk to cater to various needs throughout the stay.
– Convenient location near Artesa Vineyards & Winery
– Luxurious full-service spa on-site
– Outdoor swimming pool for relaxation
– Two enticing restaurants within the hotel premises
– Modern amenities including flat-screen TV and Enseo entertainment systems
Auberge du Soleil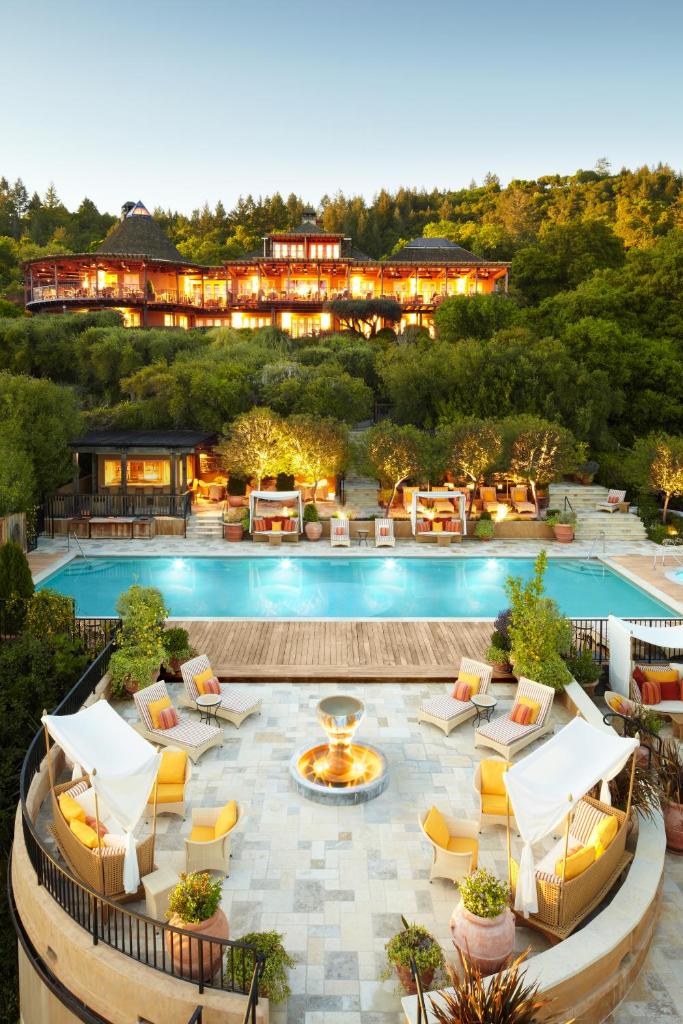 Nestled among a 33-acre olive grove, Auberge du Soleil is a luxury Napa Valley resort that offers a truly opulent experience. The resort boasts an outdoor pool with cabanas, a serene health and wellness spa, and a fine dining restaurant. Guests can unwind in their accommodations which feature fireplaces, free WiFi, and balconies or patios with breathtaking views. The acclaimed Restaurant at Auberge du Soleil serves delectable California dishes infused with Mediterranean flavors and has one of the most extensive wine cellars in the Napa Valley region. Italian linens, plush slippers, and bathrobes provide ultimate comfort in all rooms or suites while the en-suite bathrooms boast oversized soaking tubs, separate walk-in showers, double vanities, and luxurious spa toiletries. Select suites offer additional perks like a separate living room and an extra LED TV. The Bistro & Bar provides casual outdoor dining along with panoramic views and an ever-changing selection of wines by the glass. Guests can indulge in massages, facials, or the signature purification ritual at Auberge Napa Valley Spa as well as enjoy complimentary fitness classes such as power yoga, boot camp, and boxing. Lake Hennessey is just five minutes away from this Mediterranean-inspired haven while the town of Saint Helena is only ten minutes away.
– Beautifully situated among a 33-acre olive grove
– Outdoor pool with cabanas for ultimate relaxation
– Acclaimed restaurant serving locally sourced California dishes
– Extensive wine cellar featuring exceptional selections
– Luxurious accommodations with fireplaces and expansive views
Most Expensive Hotel Suites in Napa
Napa is known for offering some of the most luxurious and indulgent hotel experiences. From sprawling penthouses with panoramic views of the vineyards to opulent suites boasting private terraces and plunge pools, the most expensive hotel suites in Napa promise an unforgettable stay for those seeking ultimate luxury.
Hotel Indigo Napa Valley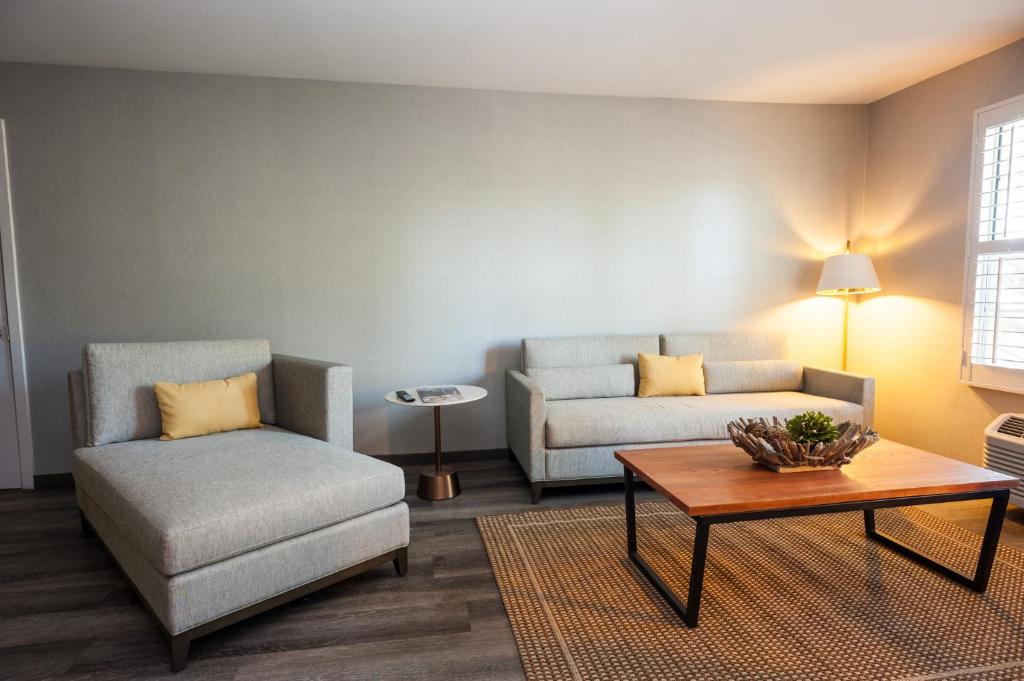 Hotel Indigo Napa Valley, located just 7 minutes' drive from downtown Napa and the Wineries of Napa Valley, offers a comfortable and convenient stay for guests looking to explore the area. The hotel boasts spacious rooms with modern amenities, including a 42-inch flat-screen TV and free WiFi. Each room also includes a refrigerator and coffee machine for added convenience. Guests can enjoy complimentary access to the outdoor hot tub and well-equipped fitness center, as well as relax on the sun terrace furnished with umbrella-covered tables. Private parking is available for an extra charge. With its close proximity to attractions like Napa Premium Outlet Mall and Napa Golf Course, Hotel Indigo Napa Valley is an ideal choice for those seeking both relaxation and adventure.
– Convenient location near downtown Napa and wineries
– Spacious rooms with modern amenities
– Complimentary access to outdoor hot tub
– Well-equipped fitness center
– Relaxing sun terrace with umbrella-covered tables
Embassy Suites by Hilton Napa Valley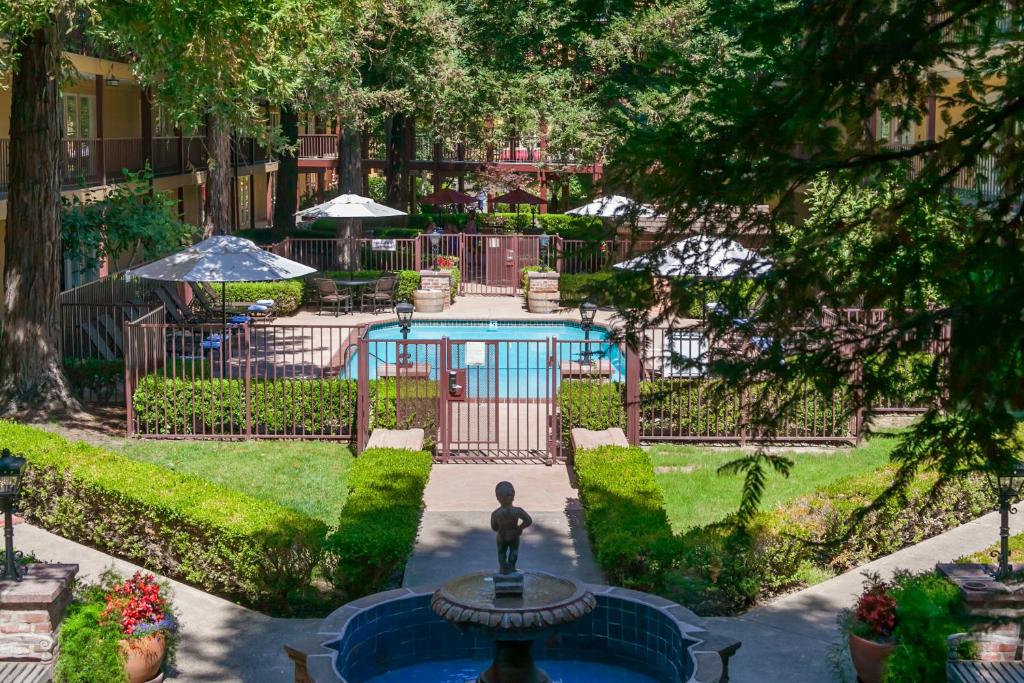 Located in the heart of Northern California's renowned Napa and Sonoma wine country, the Embassy Suites by Hilton Napa Valley offers spacious 2-room suites and an array of fantastic amenities. Each suite comes equipped with free WiFi, a complimentary hot breakfast, a nightly beverage reception, air conditioning, a flat-screen TV with cable and pay-per-view channels, and a wet bar featuring a microwave, refrigerator, and sink. Guests can enjoy leisurely dips in the indoor or outdoor swimming pools or take advantage of the complimentary access to the onsite fitness center. The hotel also provides easy access to nearby wineries and attractions such as Six Flags Marine World Theme Park. For those looking to explore further, bicycle rentals are available on-site.
Hotel Napa Valley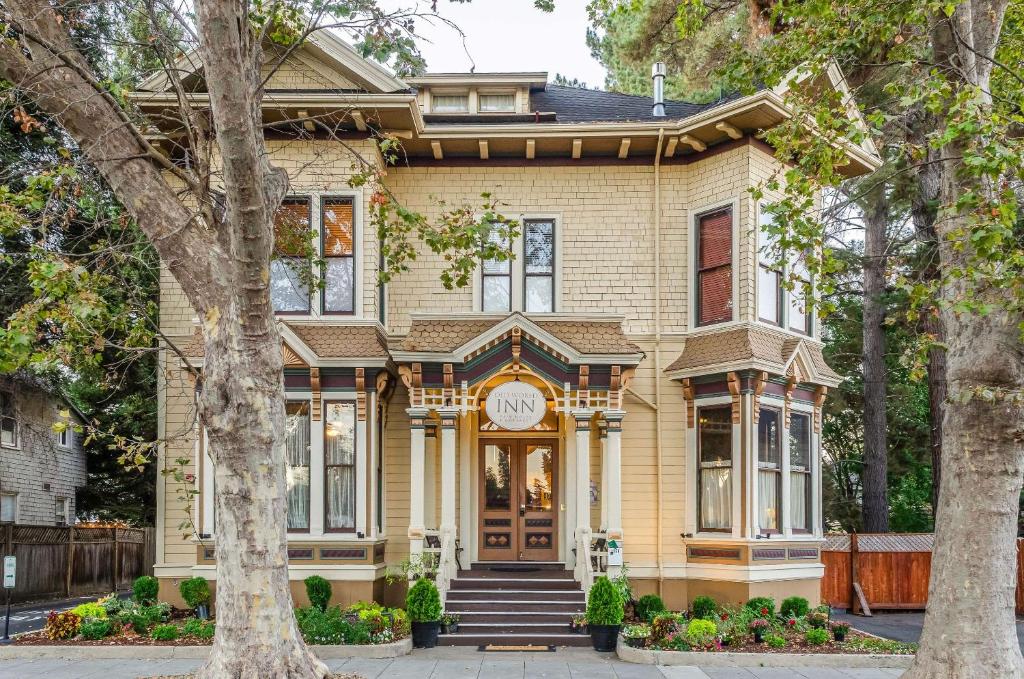 Located in Downtown Napa, the Hotel Napa Valley offers guests a convenient base for exploring the area's wine tasting rooms and local restaurants. Each room at this boutique hotel comes equipped with a flat-screen HDTV and a fireplace. Despite some rooms being petite, they are filled with luxurious amenities. Guests can enjoy spa toiletries with green tea extracts and organic olive soaps in their private bathrooms, and select suites even feature a spa bath. The hotel also offers services such as bike, kayak, and car hire arrangements at reception. VIP wine tasting trip planning is available as well. Additionally, kayaking on the Napa River is just a 15-minute walk away, while the Napa Valley Wine Train is also within walking distance. Food enthusiasts will delight in visiting Oxbow Public Market which is only 15 minutes away on foot. For travelers flying into the area, Sacramento International Airport, San Francisco International Airport, and Oakland International Airport are all within a 1.5-hour drive from Hotel Napa Valley.
Pros:
– Convenient location in Downtown Napa
– Luxurious amenities in each room
– Availability of bike, kayak, and car hire services
– VIP wine tasting trip planning assistance
– Proximity to popular attractions like the Napa River and Oxbow Public Market
Napa Hotel Suites Main Information
| | |
| --- | --- |
| 🏢 Number of Hotel Suites in Napa | 9 |
| 🥇 Average Review Score | 8.4/10 |
| 💰 High season average price | 1358 |
| 💸 Low season average price | 339.5 |
FAQ
What are some popular luxury hotel suites in Napa?
Napa is known for its luxurious accommodations, and there are several popular hotel suites to choose from. The Auberge du Soleil offers elegant suites with stunning views of the vineyards and a private terrace. Meadowood Napa Valley boasts spacious suites with a fireplace, a private deck, and access to their exclusive spa. And if you're looking for something truly extravagant, The Estate Yountville features opulent suites adorned with modern amenities and personalized service.
Are there any budget-friendly hotel suite options in Napa?
While Napa is often associated with luxury accommodations, there are also budget-friendly options available for travelers. The Silverado Resort and Spa offers affordable suite options that still provide comfort and convenience. Additionally, the Embassy Suites by Hilton Napa Valley provides spacious two-room suites at an affordable price point while offering complimentary breakfast and evening reception.
What amenities can I expect in a typical hotel suite in Napa?
Hotel suites in Napa generally offer an array of amenities to ensure a comfortable stay. You can expect features such as plush bedding, separate living areas, private balconies or terraces overlooking scenic views, fully equipped kitchens or kitchenettes for added convenience, luxurious bathrooms with high-quality toiletries, flat-screen TVs with premium channels, complimentary Wi-Fi access for staying connected during your trip, and often access to on-site fitness centers or spas.
Can I book a hotel suite with wine tasting experiences included?
Absolutely! Many hotels in Napa offer special packages that include wine tasting experiences along with your stay in a luxurious suite. For example, the Archer Hotel Napa offers curated wine tours where you can explore local vineyards and taste exquisite wines during your visit. Similarly,Auberge du Soleil has partnerships with nearby wineries offering exclusive tastings as part of their package deals.
How far in advance should I book my hotel suite in Napa?
It is recommended to book your hotel suite in Napa well in advance, especially if you are planning to visit during the peak tourist season. Napa Valley attracts visitors from all over the world, and accommodations can fill up quickly. To secure your preferred suite and dates, it is advisable to make a reservation at least 1-2 months before your planned travel dates.
Popular Suite Hotels destinations