Welcome to Toronto, Canada – the vibrant city that never fails to impress with its diverse culture, stunning architecture, and thriving entertainment scene. As a luxury hotel connoisseur, I am thrilled to take you on an extravagant journey through the remarkable hotel suites that this bustling metropolis has to offer. Whether you are visiting for business or pleasure, Toronto's hotel suites will leave you in awe with their opulent amenities and breathtaking views.
Indulge yourself in the lap of sophistication as you step into these lavish accommodations. From sleek and contemporary designs to timeless elegance, each suite is meticulously curated to provide utmost comfort and privacy. Experience a seamless blend of modern technology and old-world charm while being pampered by attentive staff who cater to your every need.
As we embark on this immersive tour of Toronto's finest hotel suites, get ready to be captivated by the allure of the city's skyline from high-rise penthouses or unwind in spacious living areas adorned with exquisite artwork. Immerse yourself in a world where luxury knows no bounds and every detail has been thoughtfully crafted to surpass your expectations. So sit back, relax, and let me guide you through an unforgettable exploration of Toronto's most remarkable hotel suites!
Top Toronto Suites
Windsor Arms Hotel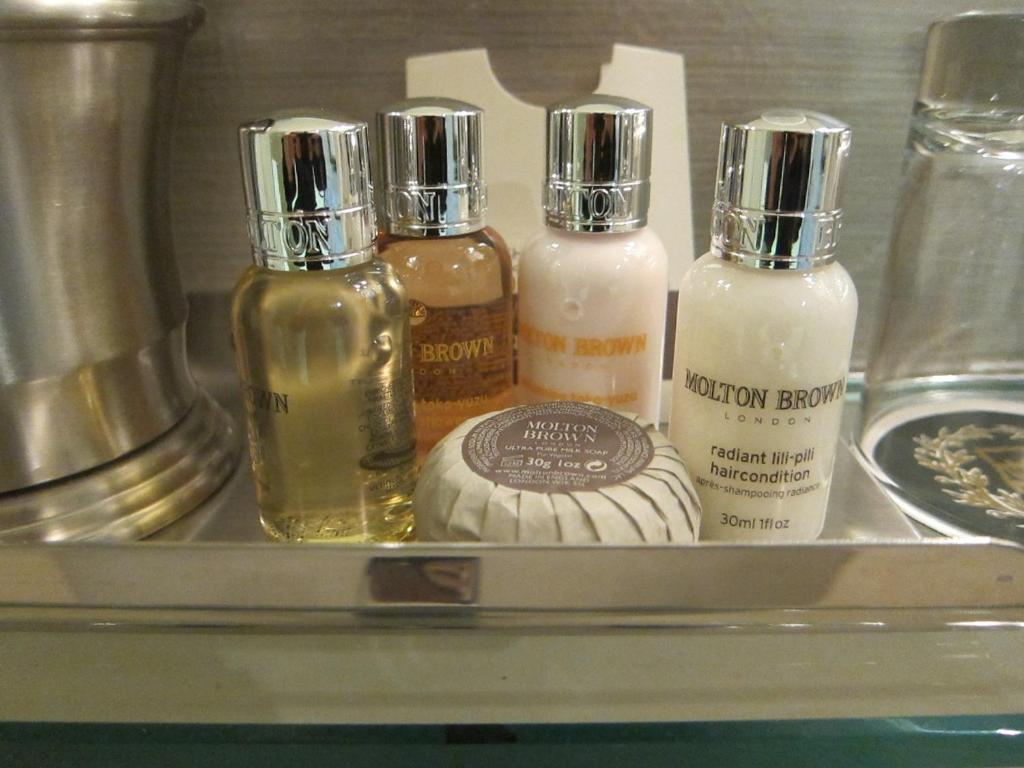 The 5-star Windsor Arms Hotel in Toronto offers a luxurious experience with its European-inspired spa, two restaurants, and complimentary WiFi. Located in the heart of the city, guests can conveniently explore popular attractions such as the Royal Ontario Museum and Yorkville Avenue shopping district within a short 5-minute walk. The hotel's suites boast elegant features including a musical instrument and a spacious limestone bathroom with a spa bath. At Windsor Arms Spa, guests can indulge in various massage and body treatments for ultimate relaxation. Each modern room is equipped with a flat-screen cable TV, minibar, and sofa bed. Guests can enjoy a buffet breakfast or choose from an enticing menu at the restaurant. For an authentic experience, high tea is served in individually themed tea rooms within the hotel. The Living Room Restaurant offers comfort foods throughout the day along with an impressive selection of craft beers including a self-pour draft table upon request. Additionally, guests have access to an indoor salt water pool, steam room, sauna, and gym facilities on-site. With its close proximity to the University of Toronto and Bay Subway Station (both within 3 minutes' walk), as well as being just 30 km away from Toronto Pearson International Airport, Windsor Arms Hotel is ideally situated for both business travelers and tourists alike.
Pros:
– Convenient location near popular attractions
– Luxurious European-inspired spa
– Two restaurants offering diverse dining options
– Individually themed tea rooms for high tea experience
– Indoor salt water pool and other wellness facilities available
Marriott Downtown at CF Toronto Eaton Centre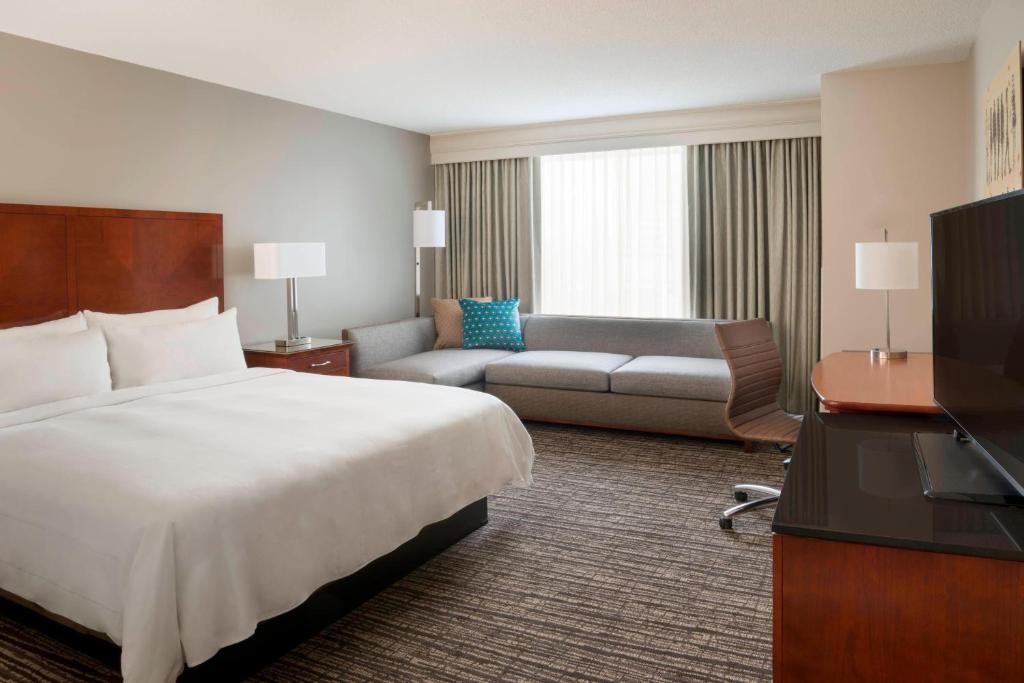 The Marriott Downtown at CF Toronto Eaton Centre is a luxurious hotel conveniently located right next to the popular Toronto Eaton Centre. Guests can enjoy comfortable and well-equipped rooms with amenities such as a 32-inch flat-screen TV, cable channels with pay-per-view movies, a coffee maker, and an in-room safe. The hotel boasts fantastic facilities including a rooftop pool and a 24-hour fitness center for guests to stay active during their stay. Additionally, the hotel provides foreign exchange services for international travelers. With attractions like Dundas Square and the Rogers Centre just minutes away, this hotel offers both convenience and luxury for guests visiting Toronto.
– Prime location beside the Toronto Eaton Centre
– On-site restaurant Trios Bistro
– Rooftop pool offering stunning views of the city
– 24-hour fitness center for guests' convenience
– Foreign exchange services available
DoubleTree by Hilton Toronto Downtown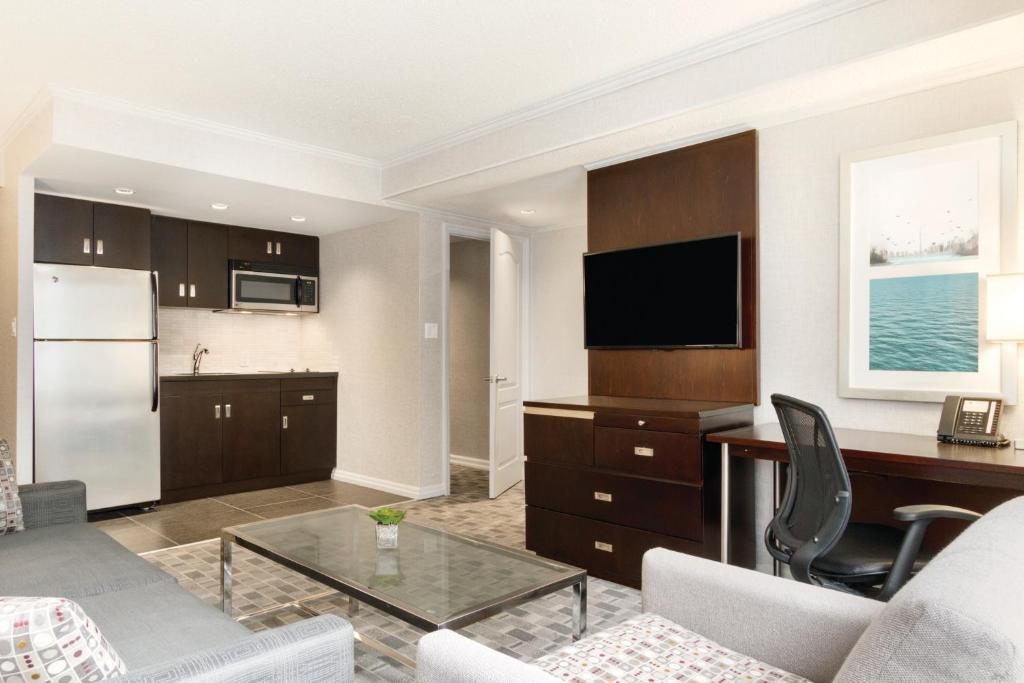 Located in the heart of Toronto, DoubleTree by Hilton Toronto Downtown offers a range of amenities including an indoor heated pool, fitness centre, and on-site restaurant. Guests are welcomed with warm chocolate chip cookies upon arrival and have the option for underground parking (surcharge). The hotel is conveniently located near popular attractions such as the Toronto Eaton Centre and St. Patrick Subway Station. Each room is tastefully decorated and includes a flat-screen cable HDTV, air conditioning, safe, coffee maker, and hairdryer. The suites also feature a fully equipped kitchen with a fridge/freezer, microwave, stovetop, and utensils. Guests who opt for on-site parking can enjoy in-and-out privileges during their stay. With its central location, this hotel provides easy access to popular landmarks like the CN Tower and Air Canada Centre. The Toronto Pearson International Airport is approximately 30 km away.
Pros:
– Central location in downtown Toronto
– Indoor heated pool
– Fully equipped kitchen in suites
– Warm cookies upon arrival
– In-and-out privileges for on-site parking
Other places to stay in Toronto
Hotel Suites in Downtown Toronto
Hotel suites in downtown Toronto offer an exquisite blend of luxury and convenience. With their elegant designs and spacious layouts, these suites provide a tranquil retreat for travelers amidst the bustling cityscape. From breathtaking views of the skyline to top-notch service, staying in a downtown Toronto hotel suite promises an unforgettable experience.
Pan Pacific Toronto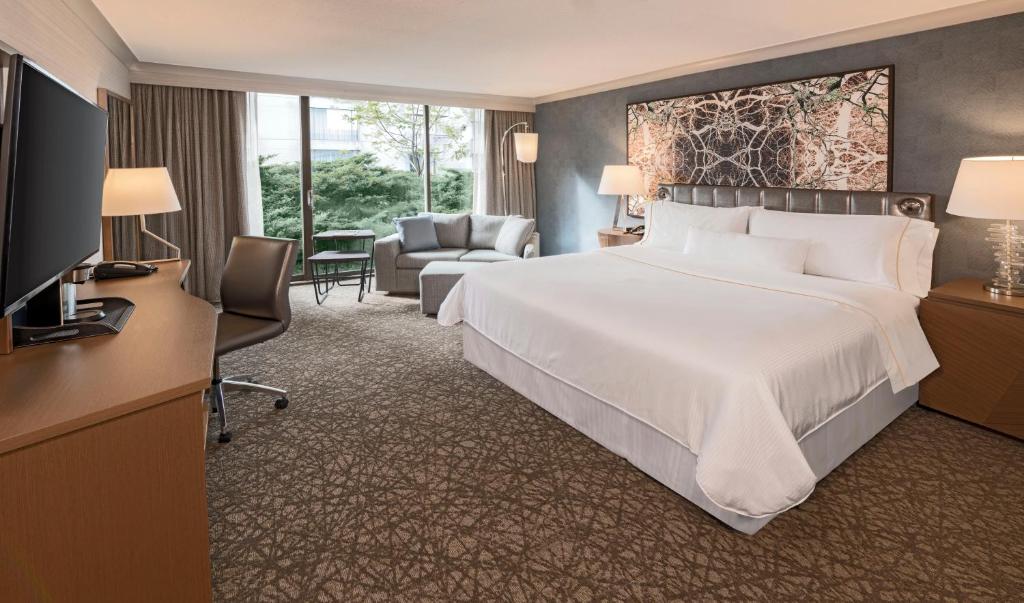 Located on 15 acres of beautiful parkland just a short drive from downtown Toronto, Pan Pacific Toronto offers a tranquil escape with its seasonal outdoor pool and tastefully decorated, air-conditioned rooms. Guests can easily explore the city's iconic sites, such as the CN Tower, as well as other attractions. The hotel boasts on-site activities including tennis courts and a state-of-the-art fitness center. Indulge in a variety of international cuisines at the hotel's restaurants or take advantage of its convenient location near major highways for easy access to Canada's Wonderland amusement park.
– Scenic parkland location
– Seasonal outdoor pool
– Convenient proximity to downtown attractions
– On-site activities including tennis courts
– Variety of international cuisine options
Bisha Hotel Toronto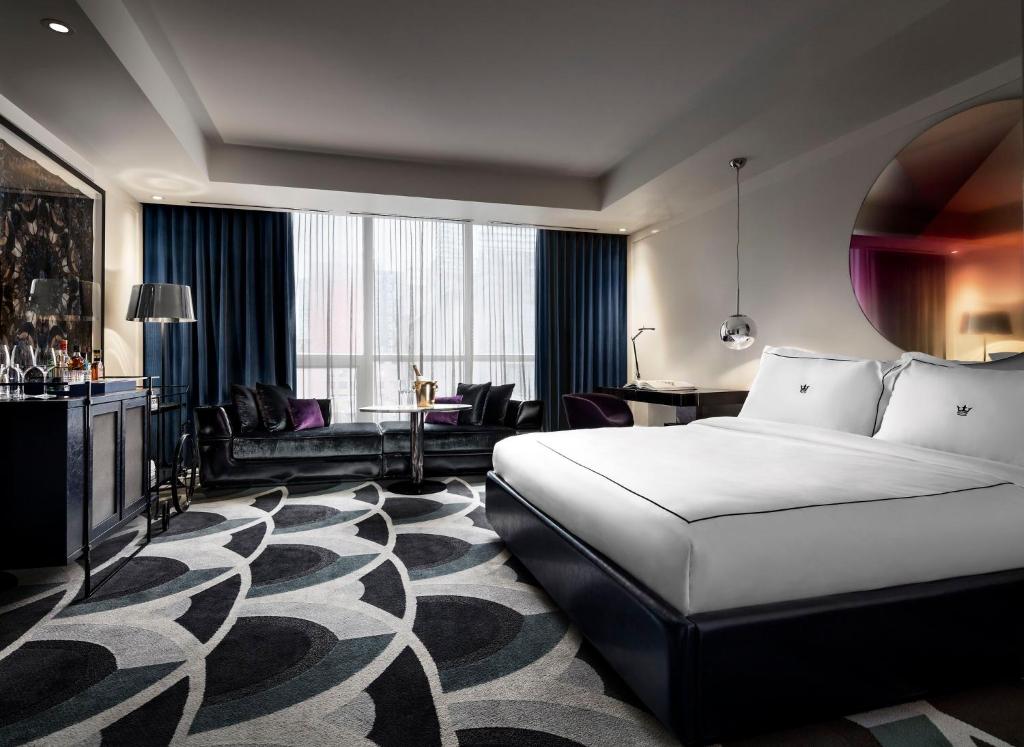 Located in the heart of downtown Toronto's Entertainment District, Bisha Hotel is a luxurious property offering an exceptional experience. With three restaurants, a lobby bar, and a rooftop infinity pool overlooking the city, guests can indulge in culinary delights and relax with breathtaking views. The hotel's interior spaces have been thoughtfully designed by Alessandro Munge of Studio, while the 9th floor is a creation of celebrity icon Lenny Kravitz and his firm, Kravitz Design Inc. Each guest room showcases unique designs along with modern amenities such as free WiFi and a flat-screen TV. Whether attending events or exploring the vibrant city, Bisha Hotel provides convenience with its 24-hour front desk and on-site parking options. Additionally, guests can enjoy impressive views of both Lake Ontario and the city skyline from the event space. The hotel's prime location offers easy access to popular attractions including the CN Tower (500 meters away), Rogers Centre (400 meters away), Air Canada Centre (1.5 km away), as well as various shops, restaurants, and theaters within walking distance.
– Central location in downtown Toronto's Entertainment District
– Unique room designs by renowned designers
– Rooftop infinity pool with stunning city views
– Impressive event space overlooking Lake Ontario
– Proximity to popular attractions like CN Tower and Rogers Centre
The Westlake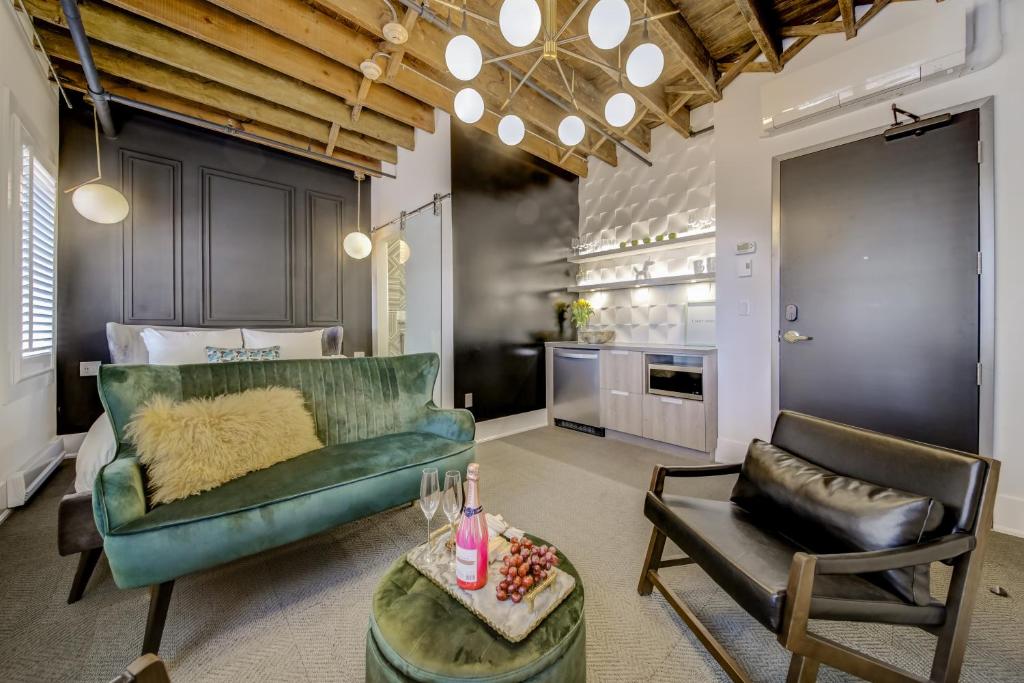 Situated in Toronto, The Westlake offers a comfortable stay with its shared lounge and free WiFi. Guests can also take advantage of the hotel's free private parking. With family rooms available, the property features a sun terrace for guests to relax and enjoy their time. For added convenience, selected rooms are equipped with a kitchen that includes a fridge, oven, and dishwasher. The hotel is located near popular attractions such as Rogers Centre and CN Tower, which are only 14 km away. Billy Bishop Toronto City Airport is also within close proximity at just 13 km from The Westlake.
– Free WiFi
– Family rooms available
– Sun terrace for relaxation
– Convenient kitchen facilities in selected rooms
– Close proximity to popular attractions
Other places to stay in Toronto
Most Expensive Hotel Suites in Toronto
Toronto offers some of the most luxurious and exclusive hotel suites in the world. These opulent accommodations provide top-notch service, breathtaking city views, and unparalleled comfort for a truly lavish stay.
The Westin Toronto Airport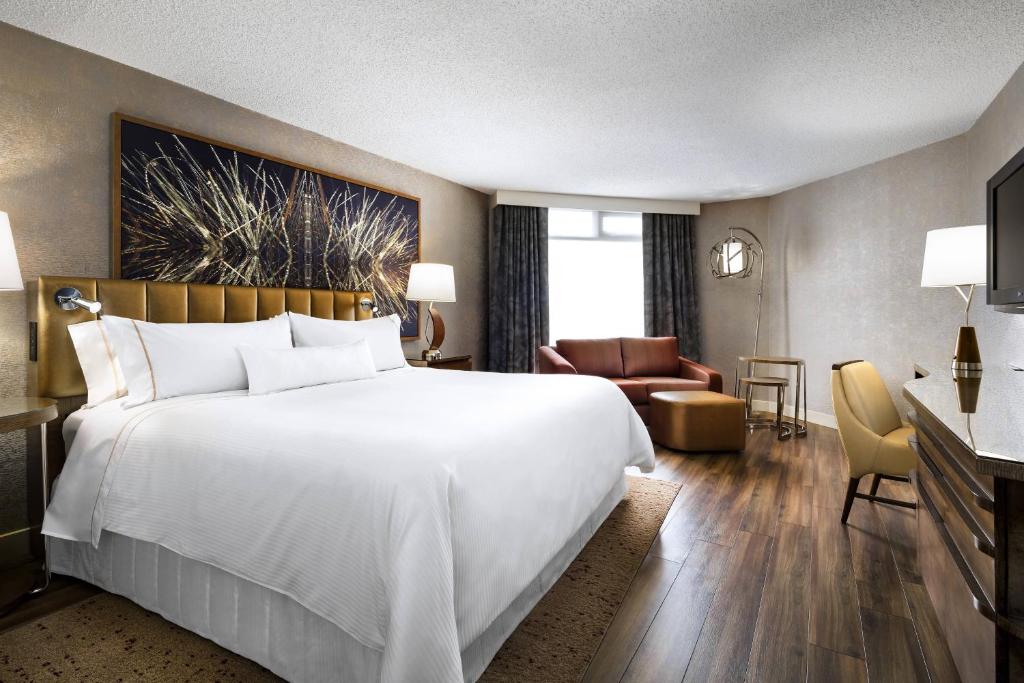 The Westin Toronto Airport is a conveniently located hotel, just a short drive from Pearson International Airport and close to downtown Toronto. The spacious rooms are elegantly furnished with plush bedding and modern amenities, ensuring a comfortable stay. Guests can take advantage of the on-site fitness center and indoor swimming pool for relaxation and wellness. The hotel also offers two dining options for guests to enjoy. Surrounding the property, guests can explore attractions such as the Pearson Convention Centre, Royal Woodbine Golf Club, and the Woodbine Racetrack and Casino. Additionally, Toronto's city center is easily accessible within a 20-minute drive or train ride. Valet and self-parking options are available at an additional charge.
Pros:
– Convenient location near Pearson International Airport
– Spacious rooms with luxurious amenities
– On-site fitness center and indoor swimming pool for relaxation
– Two dining options available at the hotel
– Close proximity to popular attractions in Toronto
Four Seasons Hotel Toronto at Yorkville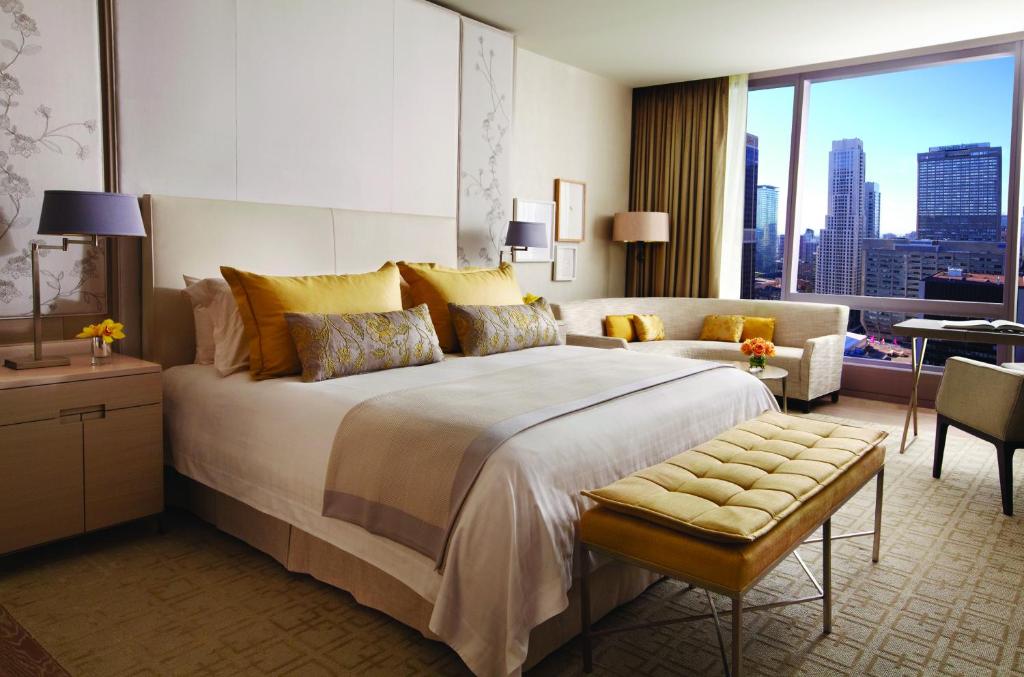 The Four Seasons Hotel Toronto at Yorkville is a luxurious 5-star hotel that offers guests the ultimate in relaxation and convenience. With an expansive spa, full-service fitness center, indoor lap pool, and hot tub, guests can pamper themselves to their heart's content. The modern guest rooms feature stunning views of the city, with amenities such as satellite TV and free wired internet. Guests can unwind in plush terry bathrobes while enjoying the breathtaking sights through floor-to-ceiling windows. Dining options are plentiful with Café Boulud offering a globally-influenced menu by Chef Daniel Boulud, dbar serving up delicious cocktails and appetizers, and 24-hour in-room dining available for those late-night cravings. The hotel also provides excellent services including a multilingual concierge service, a 24-hour business center, babysitting facilities, and child services for added convenience. Located just minutes away from popular attractions like the CN Tower, Hockey Hall of Fame, and Canada's Wonderland theme park, guests have easy access to explore Toronto's highlights.
Ace Hotel Toronto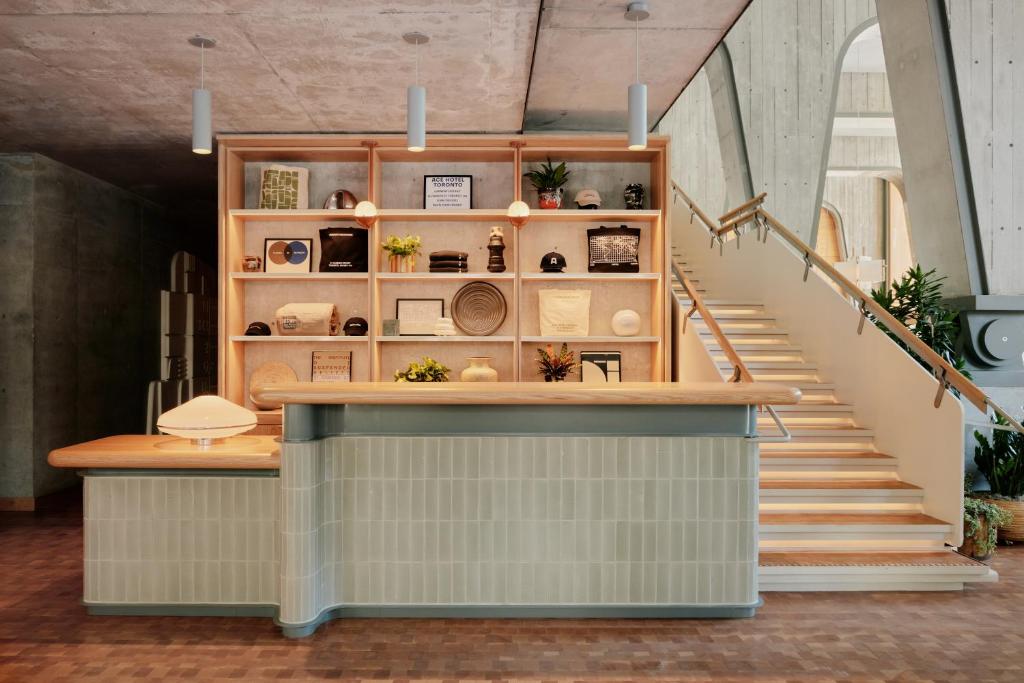 Opened in March 2022, Ace Hotel Toronto is a contemporary 4-star hotel located in the heart of Toronto. With its fitness centre, restaurant, and bar, guests can enjoy convenient amenities during their stay. The hotel features a 24-hour front desk and offers complimentary WiFi throughout the property. All guest rooms are equipped with flat-screen TVs and private bathrooms for added comfort. The non-smoking establishment is situated just 2.3 km from Hanlan's Point Beach and within close proximity to popular attractions such as Rogers Centre, Toronto Symphony Orchestra, and Toronto Eaton Centre. Travelers will also appreciate the convenience of being only 3 km away from Billy Bishop Toronto City Airport.
Pros:
– Central location in downtown Toronto
– Well-equipped fitness centre on-site
– Stylish and modern interiors
– Complimentary WiFi throughout the property
– Close proximity to popular attractions and entertainment venues
Penthouse Suites in Toronto
Penthouse suites in Toronto offer opulent living spaces with breathtaking views of the city skyline. These luxurious accommodations feature spacious layouts, top-notch furnishings, and exclusive amenities, providing an unforgettable experience for discerning travelers seeking the ultimate in luxury and comfort.
The St. Regis Toronto
The St. Regis Toronto is a luxurious hotel that combines elegance with modern amenities. As a Double Forbes Five-Star Hotel & Spa and part of the Marriott family of hotels, it offers an exceptional experience to its guests. The Spa at The St. Regis Toronto, now known as The Spa at LOUIX LOUIS, provides the perfect retreat for relaxation and rejuvenation. Guests can indulge in Afternoon Tea on Thursdays, Fridays, Saturdays, and Sundays from 14:00 to 17:00 in the Astor Lounge located on the lobby level.
– Double Forbes Five-Star Hotel & Spa
– Elegant design and modern amenities
– Luxurious spa experience at The Spa at LOUIX LOUIS
– Afternoon Tea offered on Thursdays through Sundays in the Astor Lounge
Toronto Hotel Suites Main Information
| | |
| --- | --- |
| 🏢 Number of Hotel Suites in Toronto | 10 |
| 🥇 Average Review Score | 8.1/10 |
| 💰 High season average price | 1892 |
| 💸 Low season average price | 473 |
FAQ
What are some popular luxury hotel suites in Toronto?
Toronto offers a range of popular luxury hotel suites for travelers. The Ritz-Carlton, located in the heart of downtown, is known for its spacious and elegant suites with stunning views of the city skyline. The Four Seasons Hotel Toronto boasts luxurious suites equipped with state-of-the-art amenities and personalized service. The Shangri-La Hotel, situated in the entertainment district, offers stylish and contemporary suites with panoramic views and indulgent spa facilities.
Which neighborhoods in Toronto have the best hotel suite options?
Toronto has several neighborhoods that offer fantastic hotel suite options. Yorkville, known for its high-end shopping and dining scene, is home to many upscale hotels that feature luxurious suites. Downtown Toronto is another great neighborhood to find excellent hotel suite options as it is close to major attractions such as CN Tower and Royal Ontario Museum. The Entertainment District is also worth considering due to its vibrant nightlife and proximity to theaters.
What amenities can I expect from luxury hotel suites in Toronto?
Luxury hotel suites in Toronto typically offer an array of amenities to ensure a comfortable stay for guests. These may include spacious living areas with plush seating arrangements, fully-equipped kitchens or kitchenettes, private balconies or terraces offering breathtaking views, high-speed internet access, flat-screen TVs with premium channels, luxurious bedding and linens, marble bathrooms with designer toiletries, complimentary breakfast or afternoon tea services,
Can I request special services or experiences when booking a luxury hotel suite in Toronto?
Many luxury hotels in Toronto are known for their exceptional service and willingness to accommodate special requests from guests staying in their suites. Whether it's arranging a romantic dinner on your private terrace overlooking the cityscape or organizing a private tour of local art galleries or wineries,Fairmont Royal York
What is the average price range for luxury hotel suites in Toronto?
The price range for luxury hotel suites in Toronto can vary depending on factors such as location, size, and amenities offered. On average, you can expect to pay between $300-$800 per night for a luxury suite in Toronto. However, prices can go higher depending on the level of exclusivity and additional services provided by the hotel. It's recommended to book well in advance and check for any special offers or packages that may be available to make the most of your budget while enjoying a luxurious stay in Toronto
Popular Hotels Suites destinations